Step-by-Step Guide to a Major Capital Campaign Ask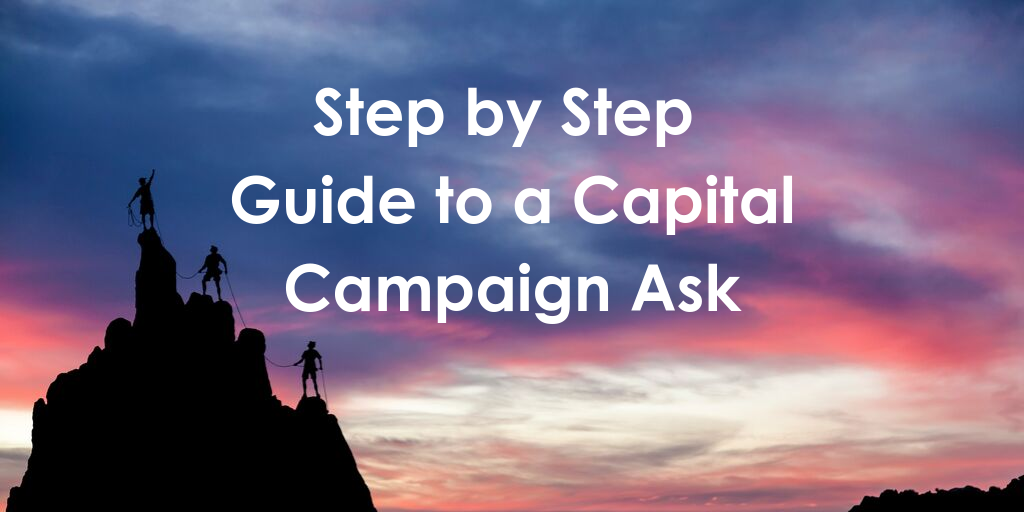 What does it take to close a major capital campaign gift?
Clearly such a major undertaking takes a skilled, nuanced approach to the donor.
Here are the step you need to follow, if you want to close major gifts and capital campaign asks at the six and seven figure level.
1. Reconnaissance.
What do we mean by "recon?" It's your donor research and careful preparation.
The more prepared you are, the more comfortable – and successful – you'll be.
How much can you find out about your donor? At a very minimum, you need to know:
Your donor's track record with your organization – both transactional and their engagement. How long have they given? Have they lapsed?
What's their lifetime giving amount? How have they been thanked or engaged?
Even more: How have they been involved with your group? Have they volunteered? Attended events? Former board member?
Who do they know at your organization? What do they think of your nonprofit?
Their passions and interests: All donors have big hearts, or they wouldn't be donors. They care about humanity and changing the world.
What do they hold dear? What do they believe in? What are their personal values? What area of YOUR work are they most interested in?
Your donor's personality profile: Are they type A or type B? Social or businesslike? Introvert or extrovert? Emotional or analytical?
Understanding your donor's personality allows you to present an opportunity to the donor that fits their personal values and their outlook on the world.
2. Prepare your energy to be enthusiastic and positive.
Think about it: what kind of energy can galvanize your donor and make them want to help change the world?
How do you walk into the room? Are you powerful and positive? Do you carry a sense of abundance? Are you positive and hopeful? Enthusiastic?
How's your attitude? Are you holding yourself "small?" Or, are you filling the room with your positivity and energy?
Energy is an often overlooked aspect of an Conversational Ask. If you are not enthusiastic and positive, how can you expect your donor to be that way?
Your smile is a secret weapon. It puts both YOU and your donor at ease.
3. Ask for permission to ask.
I absolutely believe in letting the donor know what is going to happen.
Especially in a major capital campaign ask, you never, ever, want to surprise a donor with an ask.
If that happens, and the donor is taken by surprise, you will not be successful.
What's worse, the donor may feel like your ask is an affront! Then you are dead.
Here are some ask "warm-up" questions:
Our capital campaign is moving forward! Would you like to talk about your involvement in the project?

We are working on xxxx project/initiative, and would love to find out if you are interested in possibly supporting it.

May we come talk to you about your interest in supporting the capital campaign?

You've been engaged with us for so long, are you ready to discuss a capital campaign gift?

The Dean (ED, President, Board Chair) would like to come visit you and discuss your participation in the campaign. Would you like to have this conversation?
4. The visit itself: Ask the donor to share why they care about your mission.
When you walk in to make an important capital campaign ask, set the stage for the conversation.
"Mr. and Mrs. Jones, we're here today to chat with you about this wonderful new initiative our organization is taking. Are you both ok with that?
Polite, donor-centered questions make the donor feel more in charge of the conversation, which is always important.
Be sure to spend adequate time in social chit-chat.
I really like the gentle small talk at the beginning of a visit, because it gives me a chance to settle down, take a deep breath, and collect myself. Who knows, it might make the donor feel more comfortable too.
Finally, the most important way to set the stage is to begin by asking the donor herself to share why she believes in your organization. Thank you to author Andrea Kihlstedt for this important idea!
The "Why I care" conversation is the true reason you are making this ask.
Your donor has a reason she agreed to meet with you to discuss her gift. She is likely not going to make a large gift unless she has a "heart" connection with your work.
Moreover, she may be quite passionate about your cause, and would love a chance to talk about it.
When your donor starts things off herself, by talking about why she cares, everything shifts!
She feels more in charge of the conversation, more like she's taking the lead.
Opening up her passion for the cause puts the conversation in a completely different light.
She can even make the "case for support" FOR you, so that you don't have to do all the talking.
Remember, the more your donor talks in this conversation, the more bought in she is, and the less "work" you have to do.
5. ASK: Present your opportunity.
Always, always make your ask into a powerful opportunity statement.
"We have the opportunity to tutor 1000 more students so that they can excel in school, develop self-confidence, and create a more successful and positive life for themselves.
Never, ever, use the words "we need . . . "
Instead say "we have the opportunity to . . . " and also say
"you, Ms. Donor, can touch the lives of 1000 more kids in this community.
Remember, it is the donor who does the work with her gift, not your organization.
6. Capital campaign ask – You must follow-up.
As my consulting partner Kathryn says, an ask didn't happen unless there is solid follow-up.
These major asks are a product of many conversations. This moment of asking is only one of many steps you are taking with your donor to close your capital campaign ask.
You will need to follow-up early and often with your donor – cheerfully and enthusiastically!
Bottom Line: Six Steps to a Major Capital Campaign Ask.
Clearly, it takes tons of preparation, lots of nuance, good energy and a great opportunity. But you can do it! :)
If you need help with your capital campaign, let us know, and we would be happy to discuss campaign coaching or consulting with you!
https://gailperrygroup.com/wp-content/uploads/2019/09/9_27-Blog-Sq.png
1080
1080
Gail Perry
https://gailperrygroup.com/wp-content/uploads/2022/09/Gail-Perry-Group-2.svg
Gail Perry
2019-09-27 07:27:58
2022-10-28 11:49:05
Step-by-Step Guide to a Major Capital Campaign Ask