How I Saw the Light – Change Your Fundraising Communications Now!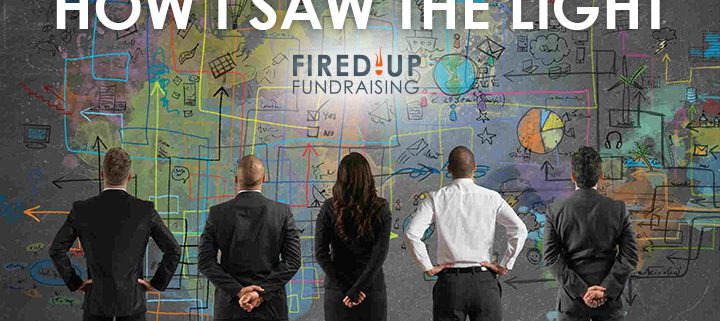 New options in fundraising communications and social media are literally transforming fundraising today.
I admit, I was a bit slow to get with the program.
And I'm willing to bet that any boomers on your team may be slow to get this too.
In case you have boomers (like me) – your CEO, or board members or colleagues – send this to them!
Because here's your chance to create something truly extraordinary!
Here's my personal journey to see the potential of digital.
I started in the world as an English major.
Words mattered.
Communicating with words worked all the way until around 2009. That's when the Great Recession slammed in.
Revenue plummeted. Budgets were slashed.
Suddenly I had some time on my hands.
And I said to myself, "Dammit, I'm gonna learn the internet!"
Tackling the Internet in 2009.
I put my downtime to work. I took myself to an Internet Marketing BootCamp (whew!) for an immersion in a new world.
And since 2009, I've committed to send out my email newsletter every single week.
No matter what is going on, my Friday newsletter goes out!
Sending out a word-filled newsletter every week has helped build my brand. It built credibility.
And it was a great strategy – for a while.
New forms of communications  – the advent of a new era in fundraising.
I started experimenting with the new social media tools, and learned to love twitter the most.
We all got into the Facebook game. We started building "fans" and then "likes" for our causes.
We started experimenting with videos (that's another blog post if you wanna hear my treacherous journey!)
The rise of the Image – our first .gif!
Here's the huge sea-change happening now.
Words suddenly don't matter as much.
Now you have to communicate through images.
Images – whether they are designed and created, or whether they are simply a terrific photograph – are what people are using to communicate online.
OK you say – "of course I know that."
BUT how is your nonprofit really using images?
I'm willing to bet not so very well!
My story again:
Last week I hired a fabulous smart (millennial) designer, Kate Sykes, to create something called "content" for me.
And I saw the light.
Trying out moving images.
We created our first .gif.
A .gif, (in case you are a boomer reading this) – is an image that moves a bit.
What is a GIF image?  Bitmap (CompuServe) GIF, or Graphic Interchange Format, is a file extension for an often animated raster graphics file and is the second most common image format used on the World Wide Web after JPEG. GIF uses the LZW compression algorithm and is owned by Unisys.
The boomers on my team argued vociferously against using the gif.
I mean we had a knock-down drag out fight  – they thought moving images were wildly irritating.
But I held fast. I said we were gonna give it a try!
Kate created the .gif for our Year-End Fundraising promotion.
And we all loved it. Even the nay-sayers on my team.
How images can transform your fundraising communications.
I know, you are saying "I am a homeless agency – I can't communicate with this tool."
But yes, you can!
I was visiting with the good folks from Passage Home this week in Raleigh and we brainstormed how they could use .gifs.
How a homeless agency could use .gifs in their fundraising communications:
Passage Home helps homeless people find affordable housing. They reunite families. They help people get back on their feet.
So we were thinking – they could have a picture of
someone sad without a home who smiles as a door opens.
a mother whose child runs into her arms
someone getting out of a car and into a house
a hand reaching out to help someone up off the ground
These images could even be animated and drawn if you don't want to use real people.
What could your nonprofit do with a .gif?
A ballet company could send me a ballerina leaping
A food bank could show a smiling kid eating
An environmental group could show a fish leaping out of the water
A school could show a kid raising her hand in class
A sports group could show someone scoring.
Why I like .gifs:
They are charming, interesting ways to sum up your wonderful work.
You need to SHOW donors what you do now.
You can't just talk about it.
And .gifs are the future. If they are really charming, people will SHARE on social media.
And you could go viral – yay!
Any nonprofit organization – large or small – can use this tool to
to jazz up its communications,
connect with supporters,
get emails opened,
reach donors thru the din of their inbox,
build a social media following.
get more Facebook likes.
It's time to get with the program, my friend.
It's time to actually transform the way you tell your story.
BOTTOM LINE:
How are you using the new fundraising communications tools?
I know I am only now catching up and seeing the light – and I'd LOVE for you to post your own .gif as a comment.
Let's see what you are doing!
https://gailperrygroup.com/wp-content/uploads/2016/08/Holy_Marketing.jpg
593
720
Gail Perry
https://gailperrygroup.com/wp-content/uploads/2022/09/Gail-Perry-Group-2.svg
Gail Perry
2016-08-12 11:00:27
2016-08-24 13:48:34
How I Saw the Light – Change Your Fundraising Communications Now!