Every Fundraiser's Goldmine: The Database– 5 Ways to Find Big Potential Right at Your Fingertips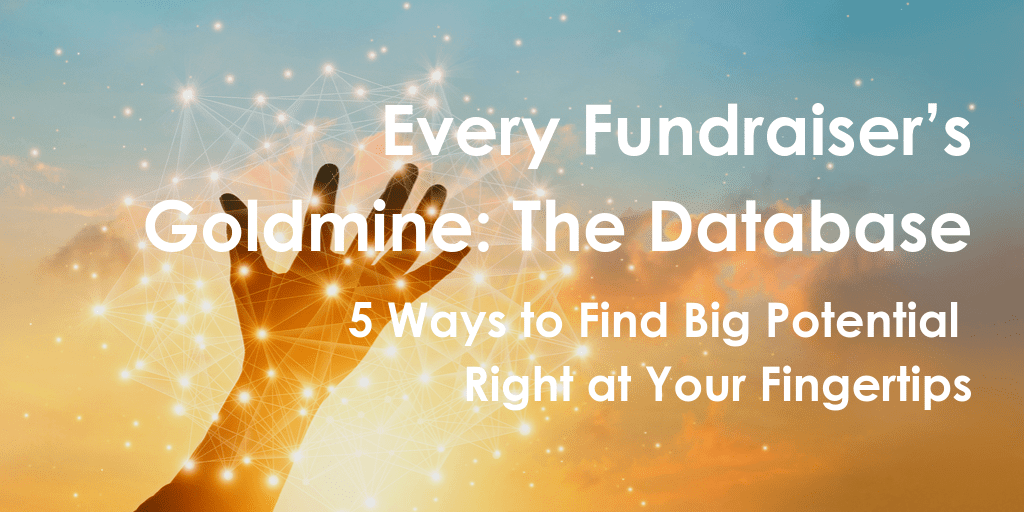 Here's a post by my colleague Dr. Kathryn Gamble, our data expert:
Finding big gift potential is on everyone's mind these days.  Who doesn't want to raise more money for their missions? What do you need to know to find your major gift potential?
Most of what you need to know about your potential prospects is right in your database.  This includes information such as:
Their giving history – how much and how often?

How they respond to your requests for support.  Do they give online? In response to direct mail?

How do they give? Stock, cash, or donor advised funds?

Do they volunteer with your organization? Serve on a board?

What do you know about them? Are they married? Have children? Where do they work?
This information is like nuggets of gold right in your own goldmine – your database!
So how can you find big gift potential in your database?
Through a process of datamining.  What is datamining, you ask? It is the process of finding new information by examining large amounts of data. 
Here are our five ways to prospect for gold right in your database.
1. Examine transactional data
The gold standard for examining patterns in transactional data is RFM – Recency, Frequency, Monetary value.  RFM is a score indicating donor affinity. You can create your own scoring rubric for your organization. But first, let's break down each component of RFM.
Recency – this is how recently the donor has given to your organization. Did they donate this year, or was the last time over three years ago? The more recent the giving, the higher the score.  You can use a 0 to 5 score with 0 indicating no giving and 5 indicating gave in the current year.  
Frequency – this is how often the donor has given to your organization in a selected time period.  Using the 0 to 5 score again, 0 indicates no gifts in the past 5 years and 5 indicates gave all five years (100%).
Monetary value – measures the largest gift the donor has given your organization.  Again, 0 is no giving and 5 can represent an outright gift of $5,000 or more.
Key to your scoring rubric is to be consistent.  Once you have assigned your donors an RFM score, you can sort you donors from highest score to lowest score. Those donors in the top quartile are those with the highest affinity for your organization. These are your loyal supporters! 
2. Determine What Form of Giving the Donor Uses 
Now that you have an RFM score for your donors, let's look at another data point for more clues as to whether or not they may be major gift potential. 
What form of giving does the donor use? Major donors often use asset-based wealth to make their gifts.
There are more tax advantages and really large gifts are most often given through accumulated wealth, not income. 
Does your donor give stock?

Are their gifts coming through family foundation or a donor advised fund?

What about an IRA charitable rollover gift?
These are all hints that this donor may have major gift capacity.
So looking at the high RFM group and if you see forms of giving mentioned here – you should prioritize learning more about this group of donors!
3. Demographics/Biography
Now that we know a bit more about the gifts our donors have given, let's look at what we know about the donors themselves.   
You may or may not already have much demographic information on your donors – things such as age, marital status, children, work, education, etc. 
If not, don't despair. This information can be very helpful, but not critical.  
Of course you have the donor's address, so knowing where they live can help you determine something about capacity through real estate values. 
Zillow is a good tool to quickly look up home values – but only do this for those who have other top indicators like RFM, participation, and asset-based giving. 
Also, marital status (married) and level of education (high) have some small positive association with giving in general.  
4. Participation or Non-Giving Involvement
Involvement, especially volunteering, has a positive relationship with giving. 
If you keep data on your donor participation with your organization, you can create a scoring rubric for involvement similar to that of the RFM. 
It adds an additional option for prioritizing your donor pool. You want to look for things like if they served on a board, if they are a season ticket holder, do they volunteer, etc., etc.
Last, but not least…..
5. Wealth Screening
Additionally, using a wealth screening service can significantly improve the efficiency of prioritizing and mining your major gift potential. 
If you have never engaged a wealth screening service before, you need to realize they use YOUR data to provide you with indicators of philanthropy for each record screened.  
You can then mine the screening data to find your best opportunity for major gifts.  
Keep in mind, prospecting is not an exact science, but the methods explained above will help you save time in the long run to raising major gifts.  
Bottom Line: So you did the work and you have your data, what now?
The key is segmenting out those who may have major gift potential from your general donor pool and prioritizing the major gift work.
Look at donors with the higher RFM scores, who give through asset-based wealth, have hints of capacity through demographic info, and are regular participants in your organization…these are your top potential prospects. 
I emphasize "potential" because this is what the data tells us but now it is up to YOU to employ the art of major gift fundraising.
Your job now is to make contact, begin the discovery process for those you don't know, further cultivate those you do, and get those gift conversations going!
Happy mining!!
https://gailperrygroup.com/wp-content/uploads/2019/10/2.png
1080
1080
Gail Perry
https://gailperrygroup.com/wp-content/uploads/2022/09/Gail-Perry-Group-2.svg
Gail Perry
2019-10-11 04:29:34
2019-10-13 14:43:07
Every Fundraiser's Goldmine: The Database– 5 Ways to Find Big Potential Right at Your Fingertips