When in Doubt, Throw a Party!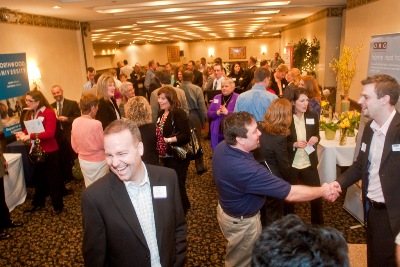 Believe it or not – this is my #1 motto after more than 25 years in fundraising.
But let me be clear – I DON'T mean throw another fundraising event!
Heaven forbid!
But here's what I really mean:
I believe in making everything you do as a fundraiser as much fun as possible.
If you make it fun, you'll draw people to you.
You'll attract more energy, more interest, more folks.
You'll generate more buzz.
And guess what?
You'll definitely raise more money!
So why don't we take  a moment and consider a very important skill every fundraiser should have: the skill called "entertaining."
(Wouldn't it be fun to have a course in fundraising 101 called "The Art of Entertaining for Fun and Profit?")
Now that's a class I'd LOVE to teach!
Why is entertaining such an important skill for fundraisers?
Because so much of what we do is – fortunately or unfortunately – wrapped around events.
Just about every single organization has at least one big event. Right?
And if you are working on major gifts – you certainly are involved in many social occasions.
Fundraisers find themselves in social situations all the time – from committee meetings with volunteers, to large scale events. to meet and greet receptions, etc.
So just for fun today, let's tackle the happy subject of entertaining.
I'm sharing below summaries of my three favorite posts on the topic of parties, fundraising events and entertaining!
You can read the short summary here or click through and read the post in full.
This is a post-mortem on my own holiday party two years ago, complete with pictures! Check out the full post here. 
have interesting guests
actively introduce people to each other
have abundant food and drink
welcome guests like they are your long-lost brother
get the young people there
be casual, not prissy
What's the difference between an "event" and a "party?" Read this post in full here. 
Before the Event:
Put together a terrific committee
Focus on sponsorships for max profit
Give your VIP's special personal encouragement to come
At the Event:
Right sized venue (crowding people creates a sense of excitement)
Turn down the lights to create a sense of intimacy and atmosphere
Abundant food and drink make guests feel welcome
Get the good-looking young people there – the older folks love them
Have a welcoming attitude toward everyone
Turn up the music early, turn it down later when people are there
Enlist next year's chair right there at your event while the excitement is high!
After the Party:
Immediately call everyone who spent money or sponsored and say "Thank You!"
Now, for my favorite post on fundraising events ever:
This is an infamous post, because harried staffers have forwarded it to their boards and bosses for the past couple of years!
You can read it in full here. 
Why should you ditch your next event?
Because it is SPONSORSHIPS that are usually the source of your profit.
You need lots of sponsorships – big ones – to make real money with an event.  And it simply takes lots of lead time to secure sponsorships.
If your events are too close to each other, you'll never have the time to raise the big money you need via sponsorships!  You just end up shooting yourself in the foot!
For more posts on events, you can check out:
Don't Make These Mistakes At Your Next Event!
The Right Way to Follow Up Your Social Events and Tours
8 Tips for Getting High Dollar Sponsorships for your Big Event
How to Have a Vastly More Profitable Auction
Top 20 Charity Auction Tips for Greater Profit
Avoid 5 Key Mistakes That Will Undermine Your Next Auction
 BOTTOM LINE:
See if you can turn everything you do into something fun, ok?
It's a kinder, gentler, more fun and much more profitable way to throw an event or a party!
What's YOUR favorite party tip?
Leave me a comment and tell me!
https://gailperrygroup.com/wp-content/uploads/2013/12/meet-and-greet.jpg
267
400
Gail Perry
https://gailperrygroup.com/wp-content/uploads/2022/09/Gail-Perry-Group-2.svg
Gail Perry
2013-12-19 20:34:38
2016-05-26 17:50:23
When in Doubt, Throw a Party!