How to Get Your Board Members To Help Identify Major Gift Prospects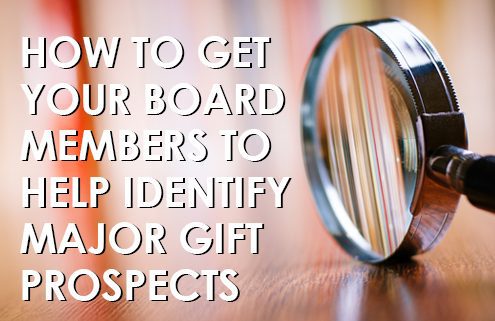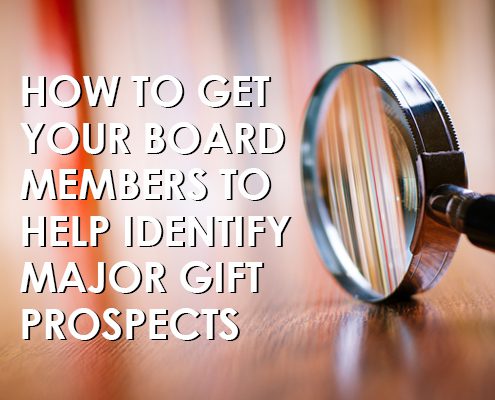 Sometimes when board members are asked to help identify major gift prospects, it can be uncomfortable.
Here's why:
Board members often don't want to share names of people they know because they're afraid they will be asked to "hit up" their friends.
And this is perfectly natural.
I don't blame them.
Who wants to offer up their friends for a solicitation? Really now.
A "game" to help get board members focusing on the largest major gift prospects of all.
This "game" introduces board members to the fundamental fundraising activity of prospect identification.
(What, a game?)
Let's lighten things up with a game. Let's lower the pressure and make the fundraising discussion more casual.
When you make fundraising discussions fun and interesting – then everyone will be more more likely to participate.
And people will all be more productive.
Ask board members: "Who are 10 people who can catapult our organization's financial future?"
This helps board members brainstorm about very, very high level prospects.
Major prospects.
People and organizations who can make a huge – not small – difference.
Don't ask your important volunteers to focus on $100 or even $1000 prospects.
Let's ask them to think much bigger.
Let's try to identify major gift prospects who are the few wonderful donors (foundations, corporations, individuals, organizations) who could absolutely catapult your organization to a whole new level.
This is the level that can make a huge impact on your community or your cause.
Who are VIP Prospects?
They are the civic, philanthropic, political, religious, corporate or social leaders in your community. Or they are major players at your organization or in your field.
These major donors and key leaders should of course be your top priority.
Not only do they give, but they are also important opinion leaders who influence many other donors.
Think broadly.
But DO think big when you want to identify major gift prospects!
How to play the VIP Prospect Game with board members.
I do this at every Easy Fundraising for Board Members retreat that I present. And everyone loves it – including board members.
This is an easy way for board members to help identify major gift prospects.
Set the game up by asking your board members:
1. "Please take out a small scrap of paper. You do not have to turn this in to anyone! (Very important guideline.)

3. "See if you can identify 10 people (or sources of revenue) who could actually catapult our organization's future.

4. "The people you name could be current or former donors. Or they could be prospective donors.

5. "They have to be people we could reasonably approach. Not someone pie in the sky like Oprah or Bill Gates.
Then sit down quietly and let them work.
It's fun to see the thoughtful looks on faces around the room.
Give them plenty of time here.
Then ask,
6. "Now please turn to the person next to you and discuss one of the names on your lists.
Processing the Exercise
One of my goals is to help board members get used to this kind of high-level strategic thinking about mega fundraising opportunities.
This is really how you want to go about identifying new major gift prospects.
Ask them:
"What was your experience like doing this exercise?
They'll probably have a lot of comments.
Someone may say:
"It was different and interesting to focus at such a high level."
Or,
"It puts everything on a completely different level. It's challenging. And it's where we SHOULD be focusing."
Or someone might say,
"I don't know anybody who can make this list."
Or you'll get anything in between.
Lower the pressure and you'll get more done.
The hook in this exercise is that it is private.
They don't have to turn their list in. (The fundraisers may not like it but we need to start here.)
It makes everything different by removing the pressure.
They are free to think broadly and not be self conscious like people often are in a full board meeting.
What might result?
Afterwards, a board member may say:
"What about Mr. Jones? Do we know him? Has he ever given? I play golf with him. I think I might be able to get the door open to him."
And the board member is willing and interested in helping.
I love the concept of "catapult."
This helps move board members away from "managing" and into "strategic thinking" – particularly thinking about strategic alliances that could change everything.
Don't waste time thinking small.
A VIP Prospect Task Force
Don't have to leave all this good thinking to waste.
At this moment, board members are focused and interested in discussing prospects.
Ask for volunteers for a temporary "VIP Prospect Task Force."

Their job is to meet ONLY twice with the staff and help create or add to your organization's own Major Gift Prospect List.
Every time I do this, I have at least half of the board members willing – and wanting – to talk more about this topic.
It's interesting and it's the high-level place where board members should be focusing.
Bottom Line – Help board members identify major gift prospects:
Here's what this game does for board members:
It introduces them to a new way of thinking about identifying prospects.
AND
It introduces them to the whole idea of cultivation strategy – how to get the door open at the highest possible level.
This is a great way to introduce key Major Gifts concepts to board members, AND gain their buy-in and participation.
Do you think this could work for you?
Leave me a comment and let me know!
https://gailperrygroup.com/wp-content/uploads/2017/03/3-10-17-Image-Feature.jpg
400
495
Gail Perry
https://gailperrygroup.com/wp-content/uploads/2022/09/Gail-Perry-Group-2.svg
Gail Perry
2017-03-10 09:00:08
2023-07-13 06:16:48
How to Get Your Board Members To Help Identify Major Gift Prospects