An Easier Way to Ask For A Gift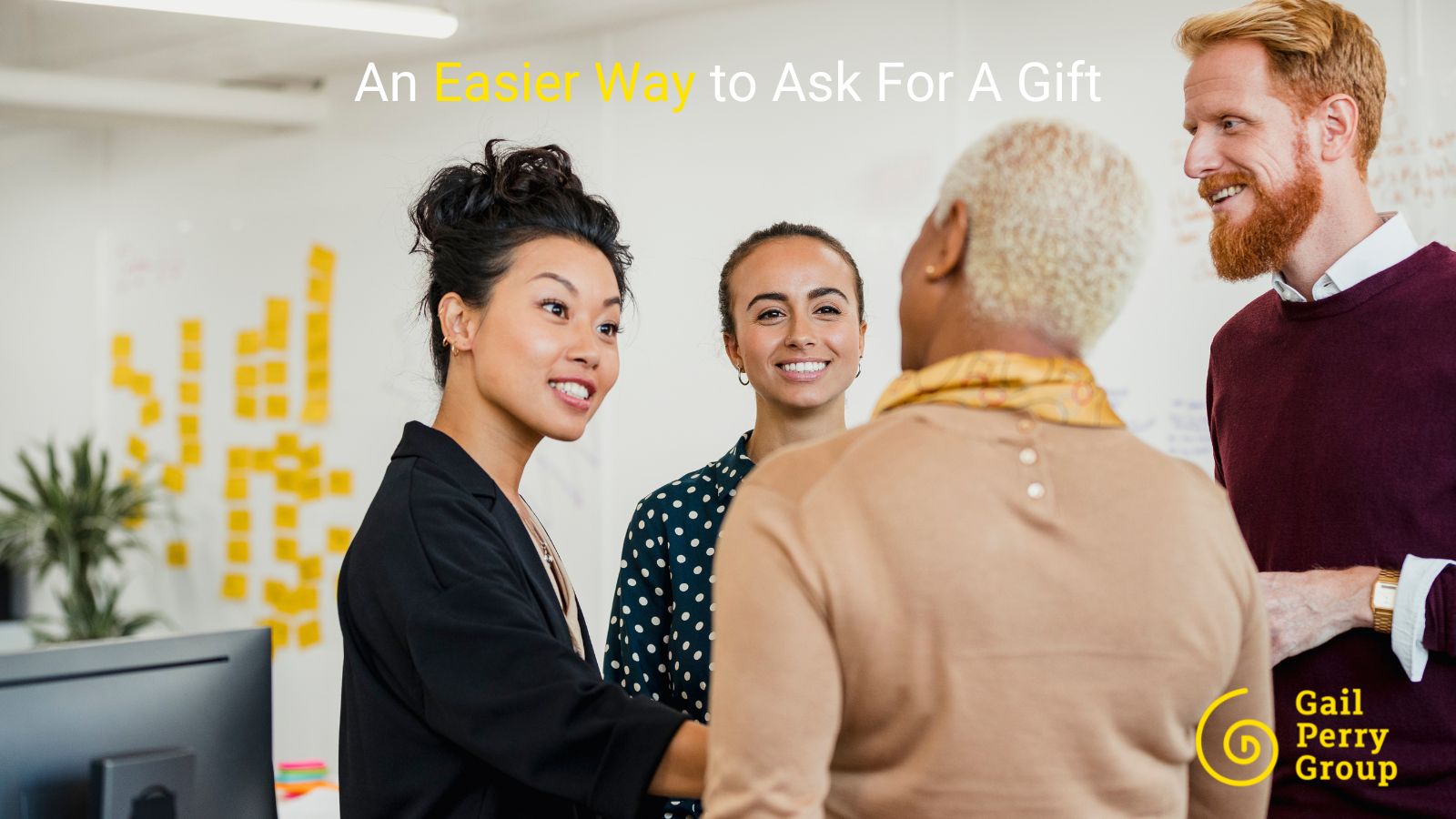 How to ask for a gift – it's a question many people ask us. What exactly do you say, when you hope to secure a major or principal gift? Everyone wonders how exactly you do it.
We've developed an approach to asking that is polite, easy, and almost always successful. It's called the Conversational Ask. It works beautifully – and successfully – with donors, whether you are in person, on the phone, or via zoom.
Take the Pressure Off When Asking for a Gift
Just think, when you have to ask for a gift, it can be a nerve-wracking and uncomfortable experience. Many people avoid asking because they find it to be uncomfortable and awkward.
Our Conversational Ask format works because it takes the pressure off, paves the way for a positive response, and makes it easier for everyone involved. This approach is a kinder, gentler, more fun, and ultimately much more successful way to close a major gift.
Remarkable success. In fact, our consulting clients are seeing remarkable results with this approach. Donors are coming forward early in the donor journey and stepping up to make a significant gift right now. We have seen donors make up to $1 million in gifts, without being asked – by following this format. (!)
Using Questions to Ask for a Gift
The Conversational Ask is based on using a series of questions to open the door to the discussion. The questions can seamlessly guide the conversation into what could be sensitive or awkward topics, such as the donor's personal values and feelings, their philanthropic outlook, and ultimately their interest in making a gift.
We have found that we can literally move a donor from a set of discovery questions – right into a discussion about a gift. A few well-placed questions can help you move forward to start discussing the idea of what a donor might like to do for your nonprofit organization.
Also, it's important to remember that this format works best with someone who is not a stranger to your organization. Most likely they have given before and given consistently. You want to identify your best major gift prospects by analyzing their giving history and their wealth capacity. Clearly, these are the people you want to approach with a Conversational Ask.
A successful Conversational Ask is based on four key concepts:
1. Approach asking for a gift as a two-way conversation.
You have to have a real conversation with your donor. It's important to remember to be friendly and truly interested in their thoughts and feelings. You want to know what's going on with them.
When you use questions, you can sit back and listen because the donor will probably reveal a lot about their giving philosophy and interests. Remember, the best conversationalist is someone who shows interest and asks questions to bring out other people.
Above all, you do not want to approach your donor with a pre-set "pitch." We are not in favor of pitch decks, (which are very popular in the business world) because that format creates a one-way presentation, not a two-way conversation.
2. Ask for permission every step of the way.
Step-by-step, you are asking the donor if they'd like to discuss this or that. Using phrases like "If I may, may I ask you about your philanthropic priorities?" Or "If I may, can I ask what kind of impact you want to make through your annual gifts to our organization?"
When you ask permission like this, then the donor feels in charge. They never feel "hit up" so to speak; no one is pushing them along.
Instead, in the Gift Conversation format, the donor decides to step up because of their personal commitment to your organization's mission. You are simply opening the door. And you can relax because the donor is leading the way!
3. Seek out the donor's personal feelings.
It's all important to have the donor share their emotions and feelings about your cause. Just imagine your goal – it's to have the donor talking with you, brainstorming about what THEY believe in, and what they want to do to change the world.
Remember that the more the donor talks about how they feel, then the more they awaken their own passion and deepest commitment to your cause. Their own energy is what compels the gift.
Remember that they are currently giving to underwrite your organization's work for a reason. A solid, true, heartfelt reason. Your job is to bring this out, and help them expand upon it.
So instead of pitching an idea to the donor; instead of literally asking for a gift, you get the donor to talk about their personal values in life. What do they believe in? What matters to them? What are they deeply committed to?
Meet them where they are. You're listening respectfully to their deepest thoughts and their heart-felt emotions. And when the donor's heart opens, often their gifts open up as well.
4. Listen, don't talk.
Again, when you simply sit back and ask questions, you draw the donor out.
In a way, you want to hold the space for them to share their attitudes, thoughts, and feelings. You're opening the door so to speak. Your job is to sit quietly and encourage the donor to share more and more. You can even say, "wow, tell me more," to encourage them to continue talking.
In reality, donors are sensitive about being "talked at." Surveys of donors have found that they generally don't feel listened to. So it's important to remember that listening just may be the lost art of fundraising. In fact, you will be surprised to find that it's your most important major gift fundraising skill.
Follow these steps to ask for a gift using the Conversational Ask format:
Question One: "I'd love to know more about how you came to be a donor."
It's always best to start with the Donor Story. Why does your donor want to support your work? Why have they supported you in the past?
This question can really open the floodgates. You'll find your donor probably has a deeply personal reason for investing in your organization's mission – something that resonates with their personal values of what is important in life.
This is a powerful question to ask. As we've mentioned, your job as at that point is to sit tight, LISTEN, and perhaps say, "Tell me more."
The longer the donor talks about why they care about your organization's mission, the more they connect emotionally with their deeply held personal feelings. This is an important, heartfelt conversation. Along the way, you may find out what will trigger their deeper involvement with your organization.
Question Two: "May I ask, what kind of impact do you feel you are making through your gifts that support our work?"
This is an easy question to ask because your donor is already talking with you about how they feel about your organization's mission. Now you bring up the idea of their gifts to support the cause. You are introducing the topic of gifts and money, and connecting it to their personal feelings.
Remember that your donor is making contributions to your organization because of something they believe in; something they want to see happen in the world. This question opens up the conversation in the big picture, so to speak.
Do note that you are asking your donor for permission to discuss this topic. Does the donor want to go in this direction or not?
As we've mentioned, it's critical to get the donor's permission to talk about their potential support. You don't just sit down and blurt out an ask, without engaging the donor in discussing what they believe in and what they want to do.
This is how, when you ask for a gift, you help the donor feel that they are in charge of the gift process.
Question Three: If I may ask, could you ever see yourself supporting our work in a bigger way?
Or,
Can I ask you – have you ever thought about what you might like to accomplish if you decided to increase your support?
Here, the donor is actively discussing with you the idea of giving and possibly increasing their gift.
They are sharing their excitement about your institution's mission, and you begin to sense that the door is opening in the donor's mind. You are deep into a Gift Conversation at this point.
Your donor may have never thought about the idea of increasing their support. So it's your job to bring it up. You are simply inquiring about the donor's interest in getting more involved. But you use permission to go there.
This is actually one of our favorite discovery and qualification questions because you'll find out immediately whether this prospect wants to discuss increasing their support or not. You will also probably discover their timing for making a larger gift. when
Sometimes, you may discover that the donor does want to "do something more," but it will need to be in the future. This is terrific because now you know that you have a wonderful major gift prospect for next year or within a future time frame. All you and your team need to do now is to keep nurturing their connection.
Question Four: Would NOW be a good time to discuss your support of this project (this capital campaign, this initiative, this program)?
Here the gift is on the table, the donor is declaring their intent – and they are excited about what they want to accomplish!
Asking about timing is important here because the donor is (always) in charge of this process. They will certainly share with you their own timing for giving.
Within this part of the conversation, you can ask about gifts of appreciated assets, or about other types of giving. For example, this is an opportunity for you to open up the idea of a bequest or estate gift.
We've had clients close-6 figure capital campaign gifts simply by asking, "When would be a good time to discuss your support?" They were taken by surprise when their donor said, "Absolutely, yes! This is what we have been thinking about, and we are ready to make a $150,000 commitment."
Here's another of our favorite Gift Conversation questions:
Would you like to know more about how you could help?
Anyone can ask this question, at almost any time. It's based on permission, so the donor won't feel pressed.
You can use this question if you find yourself in a conversation where the donor is expressing enthusiasm about your cause. If the donor says yes, then, presto! You are suddenly in a Gift Conversation.
We've found that it's also a great question that board members can ask to follow up after an event. They can ask: How did you like the event? What were your impressions? Would you like to get involved? Would you like to know more about how you can help?
BOTTOM LINE: It's easy to ask for a gift using the Conversational Ask method.
Just remember to listen thoughtfully, and encourage the donor to share their feelings and deepest passions. Then it's easy to segue into "Have you ever thought about doing something more?
As always, it is a pleasure to share our weekly insights with you as we cover essential fundraising strategies. If your organization is planning a capital campaign or expanding your major gifts program – we can help. Email coaching@gailperry.com if you'd like to schedule a free strategy call with us.
https://gailperrygroup.com/wp-content/uploads/2022/12/Blank-An-Easier-Way-to-Ask-for-A-Gift.jpg
900
1600
Jenn Shefcik
https://gailperrygroup.com/wp-content/uploads/2022/09/Gail-Perry-Group-2.svg
Jenn Shefcik
2022-12-01 20:48:20
2023-02-01 17:17:11
An Easier Way to Ask For A Gift