5 Ways Board Members Can Boost Your Virtual Year-End Campaign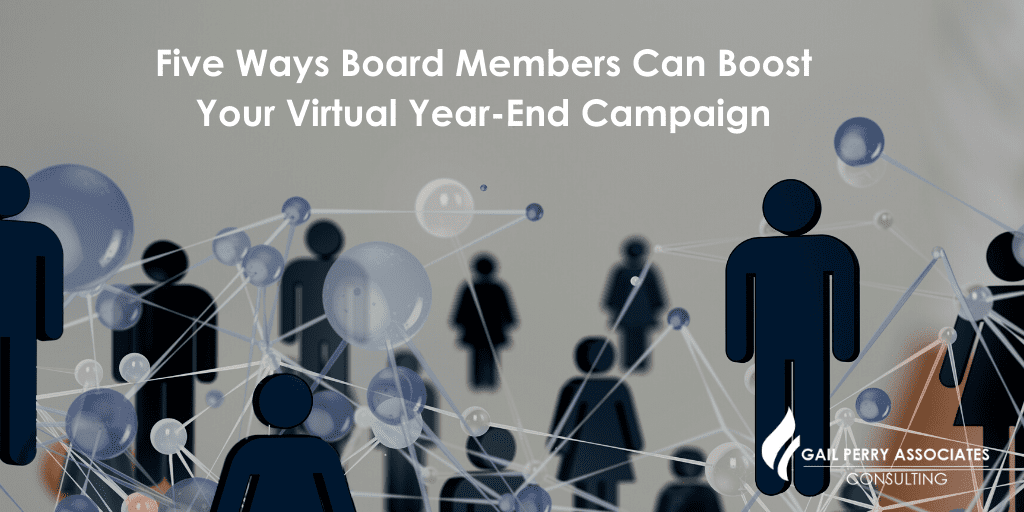 This year, your year-end fundraising campaign may look a little different.
With social distancing still the norm for many people, you'll be using digital tools and direct mail, with no personal visits or gatherings.
You need your board members' help more than ever. They can certainly help boost year-end fundraising totals this fall.
Board members can play a powerful role in fundraising.
Board members can have a deep impact when they connect with donors, even just to express appreciation.
Why? It's because they are the highest authorities at your organization. When they get involved and literally reach out to donors, it can make a huge difference.
Donors are impressed when a board member adds a note to an appeal letter, makes a phone call, hosts a party or a tour, or spreads the word.
They feel honored to have the attention of a board member.
Here are five easy ways board members can boost year-end fundraising for your important work.
1. Make their own generous gift.
Above all, board members need to be supporting their organizations generously. Each individual board member should make a "proud personal gift."
Writing their own check is the most direct and simple way to make an impact on the cause they care so much about.
A great thinker once said, "If our true believers don't support us, then who will?"
You really need to put your money where your mouth is, if you are a board member.
2. Handwrite personal notes on appeal letters.
Snail mail is considered more credible than emails. Paper letters get a lot more attention from donors.
So organize board members to write personal notes on as many appeal letters as possible.
The note can be very short and sweet:
"Thanks so much for joining the cause this year! The kids are counting on your help! Roger Chan, Board Member
3. Reach out personally to your top leadership donors.
Your annual fund leadership donors are vitally important! Their annual leadership gifts add up to a sizable amount, providing essential funding for your ongoing operations.
For your year-end campaign, your top priority is to RENEW these leadership gifts. Remember, these donors are already great fans of your organization – so renewing them should be easy and fun to do.
Here's what board members can do:
Send "no ask," thank you emails to the leadership donors. This strategy works because it helps to back up and reinforce the regular solicitations that are going out right now.
All the board member has to do is gratefully acknowledge the donor's continued support and then share some information on the impact of the donor's gifts. The donors should be very pleased to receive this personalized communication from someone so high up at the organization.
4. Send followup emails after the appeal letters go out.
This is the easiest way of all, because it takes so little time.
Board members can send a personal followup email after the appeal goes out.
There's nothing like that short, sweet, cheerful personal note from a board member, who is a volunteer for the cause.
Remember, a board member carries such clout with donors because they are not paid – they are real live volunteers who simply are doing this because they care.
5. Activate their social media networks.
Social media is playing a huge role in fundraising these days. Board members can use their social feeds to boost year-end fundraising in several ways.
Remember, in every virtual campaign, board members need to be social media ambassadors for your cause. They can:
Spread the word on social media
Share your organization's Facebook and social media posts
Encourage all their friends to support the cause
Make a donation and share it on Facebook
Enlist all their contacts to support your GivingDay campaign.
BOTTOM LINE: How Board Members Can Boost Your Year-End Fundraising Campaign:
Yes, your own board members can boost year-end fundraising. They are a hidden asset.
This year, more than ever, you need to activate their enthusiasm and give them easy ways to help.
https://gailperrygroup.com/wp-content/uploads/2020/09/Copy-of-9_18-1.png
1080
1080
Gail Perry
https://gailperrygroup.com/wp-content/uploads/2022/09/Gail-Perry-Group-2.svg
Gail Perry
2020-09-18 09:00:19
2023-07-17 02:34:16
5 Ways Board Members Can Boost Your Virtual Year-End Campaign