5 Insanely Successful Ideas to Get The Appointment with a Major Gift Prospect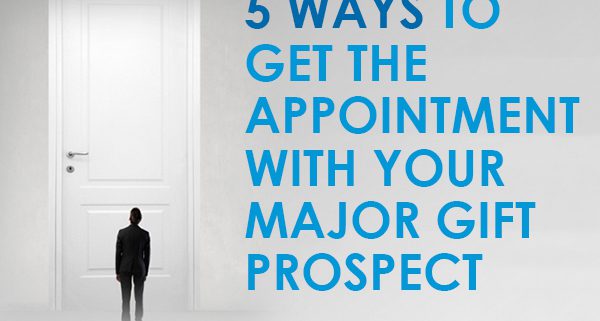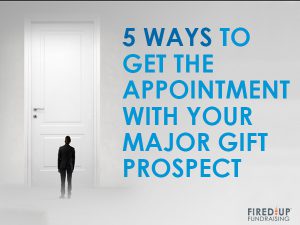 Is it hard to get the appointment with a major gift prospect?
It's can be a scary proposition. Nerve-wracking, even.
It's really the moment of truth, isn't?
Picking up the phone to ask for a visit can be quite scary. So is writing an email asking for a visit. That's when so many people chicken out, and I don't blame them!
Here are two ideas that make it not quite so scary:
– Your donor is probably not a "cold" prospect, right?
Remember this about the person (donor) you are visiting.
She's really a bit "warm" isn't she?
She's probably already given a bit. She's a bit involved.
So you know that she likes your organization and your cause.
Then it's not so very scary to to visit her to see if she wants to engage more with your nonprofit.
– You are really after a relationship, not money anyway.
Why do you want to see her?
You want to build a relationship. You want to check in with her.
You want to find out her hot buttons. You want to develop her enthusiasm for your cause.
You are NOT planning to make a presentation or make a pitch.
Please.
Remember – your donor gets to do most of the talking – not you!
Then it's not so scary — if you really just want to make friends with her and develop a long term relationship.
So if you want to get the appointment with a major gift prospect, make the stakes low.
Make it friendly.
So now that you have lowered the fear factor, let's see how to get in the door.
Here are 5 ideas that will help you get the appointment with a major gift prospect.
1. Thank you and report back visit.
This is by far the easiest call to make.
If your donor has already given, she might really like to know what impact her gift made.
It's also nice for the donor – because she knows that you are not going to be asking for money.
The stakes are low.
And the potential for each party to enjoy herself is high.
Here's what you say over the phone:
"Ms. Donor, you have been so wonderful to support us. I'd love to come by and share our results with you. Thanks for making all this happen!
What donor would not be happy to have that visit?
2. Advice Visit.
Advice visits are my absolute favorite way to get the appointment with a major gift prospect.
They are low pressure, very enjoyable, and usually yield tons of info.
Here's what you say when you pick up the phone:
"We are working on a new, big project. I'd love to see what you think of it."
Or
"I have something up my sleeve, can I come by and pick your brain?"
Or:
"We are thinking of xxxx initiative. I'd love to get your impressions of this plan."
You have to remember that big donors like to dole out the advice.
They are much more willing to see you IF they know they get to do the talking.
Then they know it will not be a boring visit!
We've written a lot about advice visits: They can get you into any door in town.
If you want money, ask for advice. If you want advice, ask for money!
3. "You've been a donor for a while, I'd love to hear your story."
Here's the "get to know you as a donor" visit.
This is for a cool, or even cold call.
Our colleague, Eli Jordfald, Senior Major Gifts Director at the Lineberger Comprehensive Cancer Center at UNC-Chapel Hill, uses these next two strategies often.
"I understand you recently (attended a performance, visited our hospital, participated in a walk, helped in a project, were served by our organization – whatever fits here). . . . I'd love to hear about your personal experience."
Just introduce yourself. Be warm and conversational.
"It's my job to know our donors, and I'd love to hear about your experience and why you gave."
Your donor just might have a burning story to tell you that she'd love to share. And she may welcome getting more involved!
4. "Would you be interested in learning more?"
This, too, is for a cool call, with someone you don't know well.
You may know that they are wealthy and generous, but you don't know how interested they are.
You are calling someone who has recently visited or participated in your organization's work.
Use this along with the "Get to Know You" visit idea.
This question is nice because it's all about the donor, and the donor's wishes.
All you can do is inquire and let the donor react.
5. "I have an idea I'd like to run by you."
This is nice when you already have a relationship with the prospect, but they are hard to reach.
One of our favorite clients has a couple of very key prospects who are world travelers, big business people, and very difficult to get in front of.
Yesterday, we were helping develop some strategies to stay in front of these very important prospects.
We told our client to try this:
"I have an idea I want to run by you."
This sounds intriguing. It feels interesting. And it seems important.
With this donor, our client needs to be charming, and to make her donor feel like visiting with her is pleasant and fun.
That way he'll make the time!
Bottom Line: Get the Appointment with A Major Gift Prospect
It really doesn't have to be so scary.
One thing: some donors will simply not want to engage with you and that is perfectly ok.
Bless and release them. Go on to see the people who DO want a relationship.
Want more help getting in the door and closing major gifts?
Then join our next Major Gifts Intensive group.
You and your team will have training and coaching on what to do and say. And you"ll have direct access to your own personal coach. We can get your leaders and board trained to help major gift fundraising.
And your organization can finally start to bring in the major gifts that are really out there for you!
https://gailperrygroup.com/wp-content/uploads/2013/06/12-2-16-Image-Feature_v2a.jpg
450
600
Gail Perry
https://gailperrygroup.com/wp-content/uploads/2022/09/Gail-Perry-Group-2.svg
Gail Perry
2016-12-02 09:15:25
2023-07-13 07:10:15
5 Insanely Successful Ideas to Get The Appointment with a Major Gift Prospect