#1 Year-End Fundraising Tip: Warm Up Your Donors Before The Ask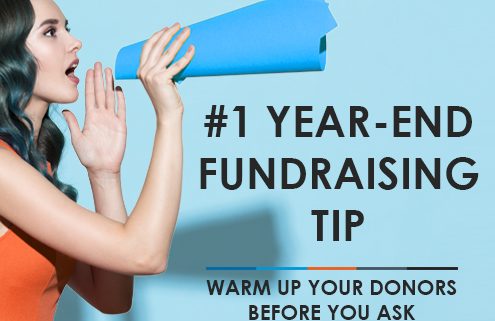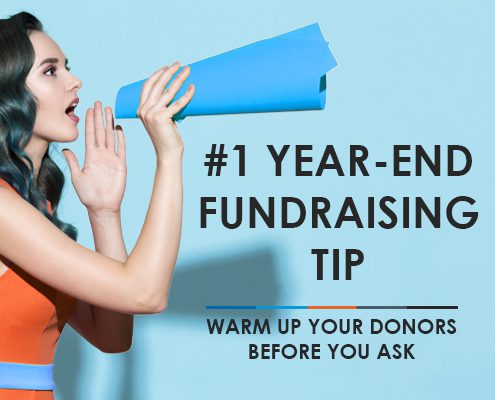 The first step in a successful year-end fundraising campaign is to warm up your donors by reconnecting with them.
Get the ball rolling on the fall fundraising season by first making sure your donors feel happy and connected to you.
Thank them, and honor them for their support – well BEFORE you ask them for another gift.
This is good manners, anyway, isn't it? :)
You want to warm up your donors before you make another ask.
Here are my two favorite ways to create a wonderful "warm-up" to launch your fall fundraising campaign.
Take the time to appreciate your donors BEFORE you send another solicitation.
Then they are much more likely to keep your organization on their short list of favored causes.
They will remember your cause happily when your appeal shows up next month.
It's important to do this – BEFORE you ask them for another gift.
Try a Thankathon!
Get everybody on the phone and have a #DonorLove evening!
Remember, donors love to be thanked.
And now, if you possibly can, you want to keep in close communication with your donors.
Thank you phone calls keep your donors on YOUR bandwagon – tuned in to your organization's work, and thrilled about the support they are giving your cause.
Before you roll out any year-end campaign, get on the phone, and thank everybody you possibly can.
This is a great place to use your board members.
Studies show that when board members thank donors, their future gifts are larger.
And if your board members are nervous about getting involved in fundraising, you can warm them up to fundraising by having them thank donors.
In addition to board members, you can get volunteers, staffers or even clients involved in a Thankathon.
Make it fun.
Feed them supper, and make your callers feel appreciated too.
You can even turn it into a little party. (When in doubt, throw a party!)
What to say to donors at a Thankathon:
Call donors and let them know you appreciate them.
Thank them for everything they have done to help the (children, students, elderly, poor, hungry, prisoners, sick etc).
Don't thank them for helping your organization be successful. Instead thank them for the impact THEY are making.
Tell them how their donations were used.
Remind them of their partnership in the cause and how important they are.
Ask them why THEY are giving. ? Why do they believe in your organization? Start a conversation!
This is such a lovely way to warm up your donors before you ask.
It's a no brainer.
It's joyful for everyone. And it's fun.
The second way I like to warm up my donors before the ask is with an impact report.
Send an impact report.
You can send your donors a postcard, video, email or regular letter with just an update.
And tell them — show them — make them see and feel the impact their gifts are making.
Nothing brings donors more joy than to know this
Remember Penelope Burk's research: Donors will give again if they get three things: 
A prompt personal thank you.
Meaningful information on how their gift was used.
Assurance that their gift was spent as intended.
You can do #2 and #3 with an impact report.
A success story of warming up your donors:
Lana Baldwin of the wonderful Pima Council on Aging in Arizona launched her fall fundraising campaign this way:
   "We kicked off our year-end campaign in early November by sending our annual report to donors with a personalized letter thanking them for making a difference in the lives of older adults last year (our "warm-up" piece).

I attended your webinar series for the best year-end fundraising season ever and implemented a number of the lessons we learned. And, we HAVE had our best year-end ever! 

We exceeded last year's (best year-end ever to date) totals by an amazing 50%! 
Make your year-end campaign EPIC–
We have a cutting-edge year-end webinar series again this year, partnering with the brilliant Rachel Muir. 
And we have 7 of the smartest fundraising experts in the world — all giving you specific strategies that – I can promise this – will raise more money for your cause this year.
You'll make up the small investment in these webinars in a blink of an eye.
So do plan to join us. (early bird pricing is still on right now.)
It's a killer line up of experts to help you bring in hundreds of thousands to your nonprofit this fall. See you there!
You can check it out and register here. 
Bottom Line: Warm up your donors before you ask!
What are YOU doing to warm up your own donors? I'd love to know!
Leave a comment and share what you are doing!
https://gailperrygroup.com/wp-content/uploads/2017/07/7-28-17-image-feature.jpg
400
495
Gail Perry
https://gailperrygroup.com/wp-content/uploads/2022/09/Gail-Perry-Group-2.svg
Gail Perry
2017-07-28 09:46:17
2023-05-08 20:54:34
#1 Year-End Fundraising Tip: Warm Up Your Donors Before The Ask