Major Gifts: How to Succeed in the Current Crisis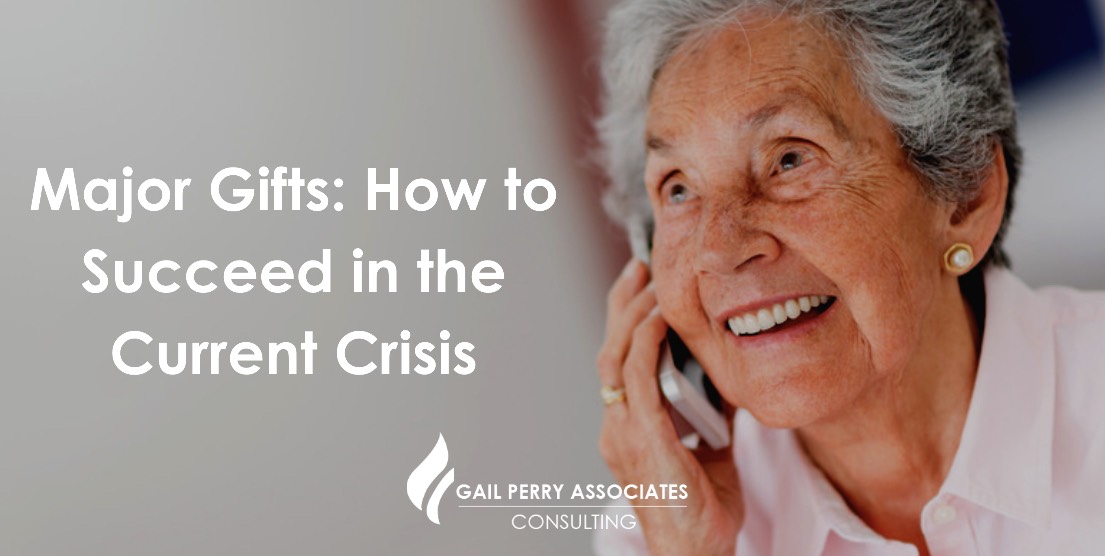 In the middle of this unprecedented crisis, we are receiving all sorts of questions about fundraising.
We are pleased to share this post by Senior Consultant Dr. Kathryn Gamble
And one question is on everyone's minds these days – especially our consulting clients: What do we do about our major gift efforts?
Will donors give?

Should we be in touch?

Is this the time to do Discovery Calls with major donors?

Should we ask for money?
People want to know, "Is now the time for major gift fundraising? As consultants and coaches, Gail and I tell our clients a resounding yes.
Why? Because major gift fundraising is all about the relationship.
Our careers have spanned decades, including raising major gifts and managing campaigns in times of serious economic recession. Yet, we still maintained strong major donor relationships and even closed gifts.
How did we do it? Two ways:
We know the basics of good major gift fundraising.

We put those solid basics to work, adapted to the situation.
The basics of good major gift work remain the same always – BUT you must adapt them to our current situation.
Here are the five basic elements of good major gift work and how to apply them in the current crisis.
1. Mindset
Your mindset is everything. This is where your power lies. First is the power of flexibility. If you are flexible, then you can adapt – especially now!
If you approach your major gift work with a sense of abundance, your positivity will shine through. You have to approach the future with optimism, because this will end, and the work continues.
The current crisis has us all concerned and sometimes feeling unsettled. Even so, the power of calm can raise the confidence of all around you. So, take a deep breath, this will pass.
The power of listening is always important and especially now. When you talk with your donors really listen – deeply – you may hear more about them than you have ever heard before.
Takeaway: Your mindset, and positive focused outlook will get you through.
2. The Art of Major Donor Discovery
Every conversation with a donor is an opportunity to learn something more. This is the best time to call your donors just to check in. Great! And they will probably share what is going on with them now.
You may find more out about their kids. Or the grandchildren they are missing. Or their beach or mountain home. They may share how their business is affected by the pandemic.
This is great information. And you just said, "Mrs. Donor, this is Sally from XYZ. We so appreciate your support over the years and just want to check on how you and your family are doing?" Then power up your listening!
Pull out that list of your mid-level donors – those that are strong lead annual givers but have never made that major gift commitment – and call them!
Takeaway: You may discover much about your donor that will help you develop a personalized cultivation program for the donor.
3. Develop and Deepen the Major Gift Prospect Pipeline
This is the lifeblood of a strong major gift effort. Since you can't meet face-to-face with donors right now, you might have more time to set aside for working on your prospect pipeline.
Is your prospect list prioritized? Do you have written strategies for each prospect? Are you behind on logging your donor contact reports? Use this time to get caught up.
This is also a great time to run a wealth screening. You can use this information to find untapped major gift potential right in your database.
The wealth screening information will also help you to group your prospects into smaller more manageable segments.
Takeaway: Analysis on your portfolio now, will help you save time later!
4. Optimizing Donor Relationships
We advise our clients to be completely donor-centered in their major gift work. And this is even more important now.
What does it mean to be donor-centered? It means the viewpoint of our donor is most important. We approach the relationship with respect, care, empathy and compassion.
When you call your donors to see how they are doing – really listen. If they ask about you and your organization great. You can ask them if they want to hear about what THEY are interested in.
Follow up with a nice handwritten note thanking them for the lovely conversation you had. Hopefully you asked their permission to stay in touch and check in on them again during this crisis.
Takeaway: Practice behavior that inspires the trust and confidence of your donor.
5. Permission Framed Asking – The Soft Ask
Never surprise a donor with an ask ever. This is more important than ever.
Right now most gift conversations happen when the donor says something like "how can I help right now?" Your next step would ask permission: "Thank you for asking. May I share some ideas?"
Here's an example:
The donor responds something like, "I would really like to help a student. How can I do that?"
And you say,
"We've launched an emergency fund to provide laptops and internet access to our students in greatest need so they can finish this semester. Would you like to support our students through a gift to the fund?"
Now you have had a permission-based ask appropriate to this situation. Completely appropriate and polite.
Bottom line: Even in these uncertain times, you can adapt your major gift efforts to move forward and see success.
Start with your mindset – this is where your power is.

Enjoy the calls you have with your donors – human connection is so important these days.

Use your time well to get organized and prepare for when this is over – these days will pass.

Be donor-centered – always. And, use permission in every gift conversation.
https://gailperrygroup.com/wp-content/uploads/2020/04/Copy-of-Copy-of-Copy-of-Copy-of-Copy-of-Copy-of-Copy-of-Copy-of-Copy-of-Copy-of-Copy-of-Copy-of-Untitled-Design-3.png
1080
1080
Gail Perry
https://gailperrygroup.com/wp-content/uploads/2022/09/Gail-Perry-Group-2.svg
Gail Perry
2020-04-10 08:49:29
2023-09-16 12:02:47
Major Gifts: How to Succeed in the Current Crisis