(Major Gifts #1) How to Move from Transactional to Transformational Major Gifts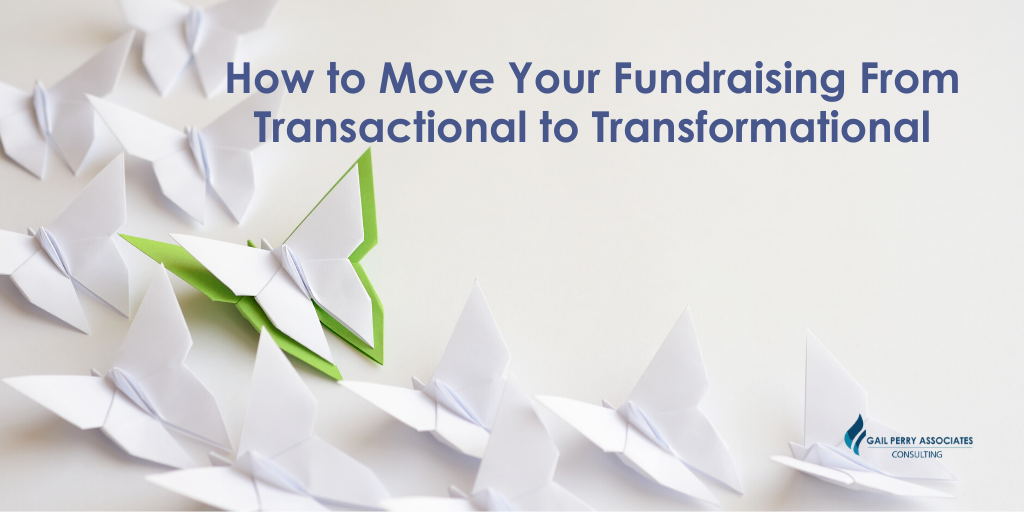 I'd like to help you see lots of major gifts flowing into your organization this year. That would make you happy, I know!
That's why I've created a series of blogs devoted to helping you and your team create a full-scale, robust major gifts program at your nonprofit.
One reason we're giving you all this advice is to encourage you and your team to consider joining our Major Gift Roadmap 2020 coaching program. We can help you develop the systems, mindset, vision, structure and processes for a long-term productive major gift program that will deliver measurable results for years. Find out more here.
From Transactional to Transformational Gifts

If you are wondering why your wonderful $1,000 a year donor just made a $100,000 gift to another organization, stop for a minute and think about your approach and your mindset.
Did you have conversations with your donor about your organization's vision – where your organization hopes to be next year or in five years?
Did you talk about how that vision will change the lives of those you serve? We're wondering – did you ask your donor what their impressions are of your organization's work?
And, did you ask for their advice/feedback on the vision? In your approach to conversations with your donor were you patient, calm, respectful, listening? Did you follow up?
This way of approach is about transformational giving.
Donors want to give away their money. Their largest gifts align deeply with their values and how they see THEIR role in bringing about good for something they strongly care for.
In other words, a donor's largest gifts go where they feel they are making a transformational difference to some outcome. That could be an endowed scholarship; a new program; an enhanced program; a research fund and much more.
To raise major gifts better known as transformational gifts, you have to have a transformational mindset.
You must understand what motivates your donor – what they value. That understanding only comes from the conversations you have with your donor about the donor! It requires a donor-focused approach.
Bottom Line: The difference between transformational gifts and transactional gifts.
Are you all about the Gift? Or are you about the Donor?
Are you focusing on the money . . . or the person behind the money?
Is it the transaction you want? Or the donor's allegiance, care and partnership?
Think again. Change your focus. Devote yourself to your donor as a whole person. Then they will do anything they can for you and your organization.
https://gailperrygroup.com/wp-content/uploads/2020/01/TransformFeature.png
1080
1080
Gail Perry
https://gailperrygroup.com/wp-content/uploads/2022/09/Gail-Perry-Group-2.svg
Gail Perry
2020-01-15 11:29:41
2022-07-10 12:28:03
(Major Gifts #1) How to Move from Transactional to Transformational Major Gifts