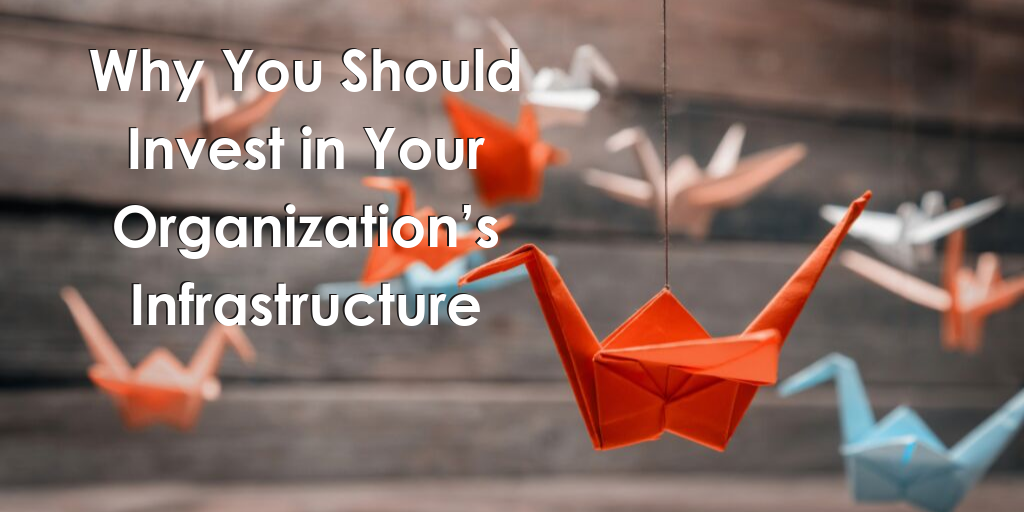 How important is your organization's infrastructure?
Just consider: infrastructure is the fuel that makes everything run.
If you are trying to heal the sick, feed the hungry, or help the poor, nothing happens without organization – and that means infrastructure.
Nonprofits have a fundamental dilemma:
You have one dollar. Are you doing to spend it on your urgent mission?
These kids need help right now. The water is getting dirtier right now. The sick are in dire need.
Everyone wants to spend every possible cent on your important program work.
And that's a good thing.
Just one point:
If you don't spend PART of that one dollar on your organization's infrastructure, then you will never really be able to grow.
You'll never be able to expand your work to reach more people. You'll stay right on the treadmill that you are right now.
Smart organizations understand that they must invest in themselves.
They must build up a strong and effective organization if they want to survive, grow and flourish.
And there's no choice.
You can either commit to building your organization or not.
Doing it half way is not a smart choice.
Capital campaign in your future? Dream on!
I can tell you that I've seen MANY organizations who want to embark on a major capital campaign, and as a consultant, I would come in and find nothing to work with.
The board would be in disarray. Leadership was "same old, same old." Internal systems were lacking.
Donor records were poor. Donor relationships were weak. Lackluster, boring communications resulted in no real community support base.
And this nonprofit would be surprised to discover that there's little support in the community for its proposed project.
Why? Because the nonprofit never devoted the time, energy and resources to build up its organizational and fundraising infrastructure.
I wish I had a dollar for every time a nonprofit leader has said to me "we are the best kept secret in town."
It makes me sad to hear this.
Why? Because it means that there is not a commitment to communications infrastructure.
The organization was not willing to make the appropriate investments – and do the hard work – to build up its visibility in the community.
Yes — I know that devoting money to infrastructure takes it away from the mission.
But nevertheless- you must do it. That is – if you want to make a bigger impact.
Nonprofits DO need money for technology, systems, adequate staffing, fundraising, and communications.
As Nell Edgington said so well on the Social Velocity Blog:
Nonprofits will only get better at creating social change if they have a strong and effective organization behind their work.

Otherwise you'll stay in "the starvation cycle of trying to do more and more with less and less."
Don't carry out your organization's mission on the backs of your employees.
Too many organizations say –
"We can't afford to pay competitive salaries."

"We are too poor to compensate our people appropriately.

"So we ask them to work for next to nothing.
What do these nonprofits get in return? They get staff turnover.
They didn't want to invest in their valuable infrastructure resources – their people.
What happens when you lose staff from your nonprofit?
Let's make a list:
You lose valuable relationships with your donors;
You lose expertise;
You lose all the time it takes you to search for a replacement.
You lose the start-up time it takes for the new employee to get up to speed.
And if they don't work out, then you have lost a year or more of effectiveness.
What do you need for a strong fundraising infrastructure?
Do you really, truly want to raise significant money – so you have a huge and broad impact?
Then you need a commitment to:
Hiring – and keeping – competent staff.
The revolving door of fundraising turnover goes faster and faster.
People come into fundraising jobs but they don't stay.
The #1 reason that fundraisers leave is for a higher salary.
So organizatons that do not want to pay their development staffers a market rate will lose them.
Staff professional development.
We both know that it's the training budget that gets cut first.
So you end up with staff who have jobs that they are not very well trained for. There's lots to learn about how to do fundraising successfully.
Nonprofits often hired the cheapest person, and don't train them.
Then they are surprised when the new employee does not deliver results. Come on now!
A clean data base, adequately staffed with trained people.
You need a system one that can provide quick and accurate reporting.
Systems that track and report on gifts, and highlight donors with potential.
The ability to turn around thank you letters quickly.
Smart, cutting edge communications.
Communications are evolving in new sophisticated ways. Smart communications are essential for fundraising and breaking out of the "best kept secret" mentality.
You need — not just one inexpensive email newsletter, but a full marketing and communications strategy and plan that deploys up to date technology.
Andddd, there goes the staffing issue again – you need adequate training and staffing of this function.
Bottom line: Don't say you can't afford to make these investments. Actually you can't afford NOT to!
Infrastructure is one of your organzation's most valuable assets.
Grow your infrastructure and you'll expand your fundraising — and your ability to make a long term, powerful impact.
What do you think? Do you agree? Let me know with a comment!
https://gailperrygroup.com/wp-content/uploads/2017/07/FeatureInfrastructure.png
1080
1080
Gail Perry
https://gailperrygroup.com/wp-content/uploads/2020/10/GPG_Master_Logo_WarmGrey-300x187.png
Gail Perry
2019-07-19 09:10:22
2019-07-19 09:10:29
Why You Should Invest in Your Organization's Infrastructure