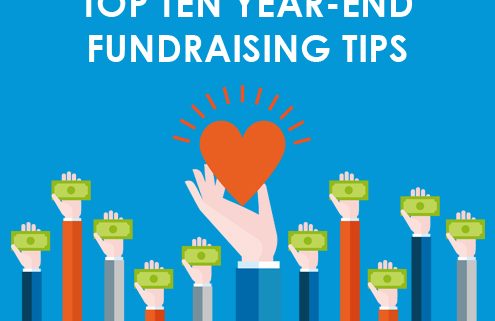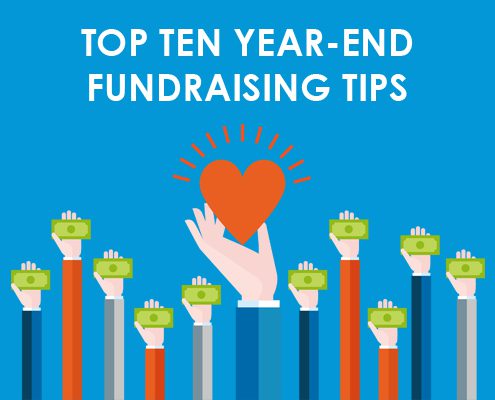 It's year-end fundraising time!
Here are my top year-end fundraising tips to help you raise the most money possible this year-end!
You probably feel like there are so many possible fundraising strategies to consider.
Where should you focus?
I'd say be sure to cover these basic top year-end fundraising tips – what every successful year-end campaign should be doing this year.  And every year.
1. Make a specific ask – with a dollar amount that encourages a larger gift.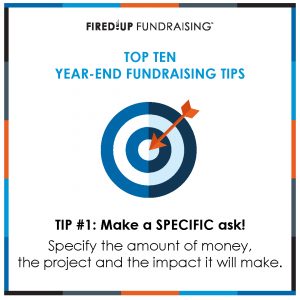 If you "hem and haw" about your ask, then you're dead.
You need to cheerfully and enthusiastically ask your donor for his financial commitment.
No ifs, ands, or buts.
Be completely up front and ask for a specific dollar amount.
If you just ask for "a generous contribution," your donor is liable to low-ball, and you'll be disappointed.
2. Create a real campaign – with a sequence of appeals.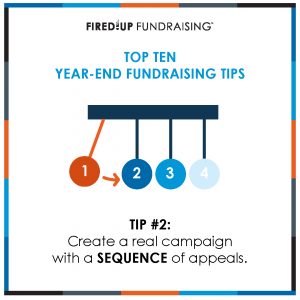 Create a multi-channel campaign that has a series of communications to your donors.
Connect with your donors over and over.
Here's what you do:
Theme: Create a theme with a specific visual look, a heartfelt message and a dollar goal.
Design: Use the same colors or images throughout all your messages. Tie them together!
Several touches: Send lots of cheerful, different communications echoing the same theme.
Different types of touches:  Mail, mail, postcards, phone, social media – all repeating the same look, messaging and goal.
Only then can you actually get your donor's attention and wake her from her usual sleepy doldrums.
3. Use surprise and delight to capture your donors' attention.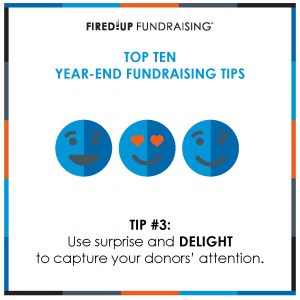 We are seeing extraordinary fundraising success from a slightly off-beat approach.
I've written about the famous Toronto Food Truck campaign where the appeal letter appeared to have been written by the little truck itself.
It captured donors' hearts and brought in an extraordinary return.
Be willing to experiment with color, design, and a catchy theme.
It may be out of the box but you can certainly capture your donors' attention – and their hearts with this approach.
4. Use a single image to tell your story and make the ask.
Can an amazing photo do all the work for you?
It's working for many organizations.
Place a high quality, closeup picture of someone being helped by your organization – at the very top of your appeal.
Images are so very powerful. They often can say more than words.
5. Use a catchy social media campaign to gain attention and funds.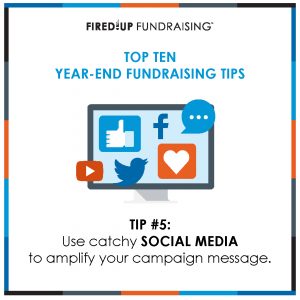 Can you design something fun via social media?
An idea that can capture the attention of your community?
I'm so impressed with the power of social media to amplify a fundraising campaign.
Just be sure to make it "social." Social media is playful, so you have to loosen up a bit.
6. Make your fundraising letter all about the donor, not all about YOU!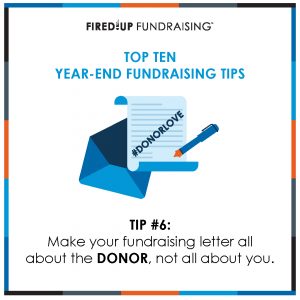 We know all about donor-centered fundraising, right? WRONG!
It's very very difficult to get it right. I promise you.
Here's how to be donor centered in your letter:
Use the word "you" at least 12-15 times in your letter.
Give the donor credit for the impact your organization makes.
The letter is not about you or your organization.
The letter is about what the donor believes and wants to accomplish.
Leah Eustace ACFRE will be joining our EPIC Year-End Campaign series to show you how to make the DONOR the center of your letter. (All sessions will be recorded so you can join anytime.)
7. Fire-in-the-belly messaging to create urgency.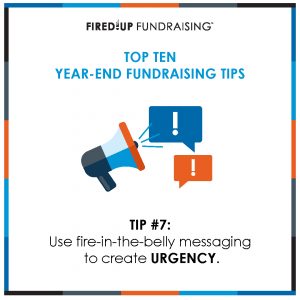 Ok, it's time to cut the nonprofit jargon and stale, lofty phrases.
You can't raise money with words like "underserved," "program," or "services."
And even important words like community and diversity – when overused – become meaningless to your donors.
Use real words. Powerful verbs.
Short sentences.
Stark descriptions of the need.
If you water down your message, you'll water down your donors' response. Please don't play it safe!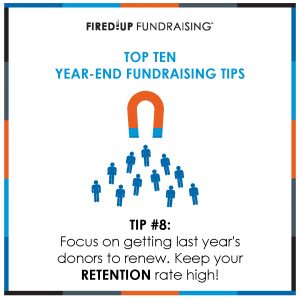 We all know where the easy money is in fundraising today.
It's in getting every single donor who gave to you LAST year to renew their gift this year.
You need to launch an all-out effort to "love on" your current and lapsed donors so they will give again.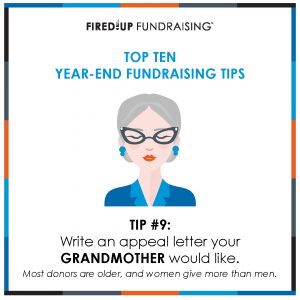 All the research shows that women are more likely to give and will give more.
Older and boomer women are your #1 giving demographic.
Many appeals are written by much younger people.
And somehow the appeal comes out in the wrong tone to capture an older reader's heart.
Imagine an older woman reading your appeal.
10. Send personalized appeals to your top 1%.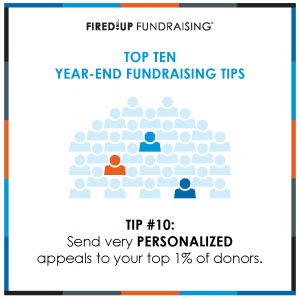 Gotta love those top 1% folks.
They are getting wealthier all the time.
So all the more reason to focus, focus on them.
Go see the donors who gave you leadership gifts last year, and ask them to renew!
There's a lot of money on the table with your leadership donors.
They need to be asked, cheerfully and enthusiastically!
Bottom line: My Top Year-End Fundraising Tips
You can really do this.
Implement these strategies and you will absolutely see more money coming into your nonprofit this fall.
These  – to me – are the absolute top year-end fundraising tips I can offer.
And DO join our Epic Year-End Campaign webinar series – to learn HOW to implement all these smart tactics.
You'll have 7 of the world's top fundraising experts guiding you, and training you in these strategies.
And you'll get a  BONUS 'ask the expert' clinic where you get expert one on one guidance.
Last year, Dallas Bonavita, of Note in the Pocket in Raleigh NC, attended the series and wrote me:
Our 2016 Fall Campaign, following your "Create your best ever year-end campaign" training was absolutely amazing and

we doubled our projected income! Thank you! 
So join us this year, and get ready to break all records in your year-end campaign!
https://gailperrygroup.com/wp-content/uploads/2017/08/8-11-17-image-feature.jpg
400
495
Gail Perry
https://gailperrygroup.com/wp-content/uploads/2020/10/GPG_Master_Logo_WarmGrey-300x187.png
Gail Perry
2017-08-11 09:43:20
2017-08-11 15:44:59
Top 10 Year-End Fundraising Tips