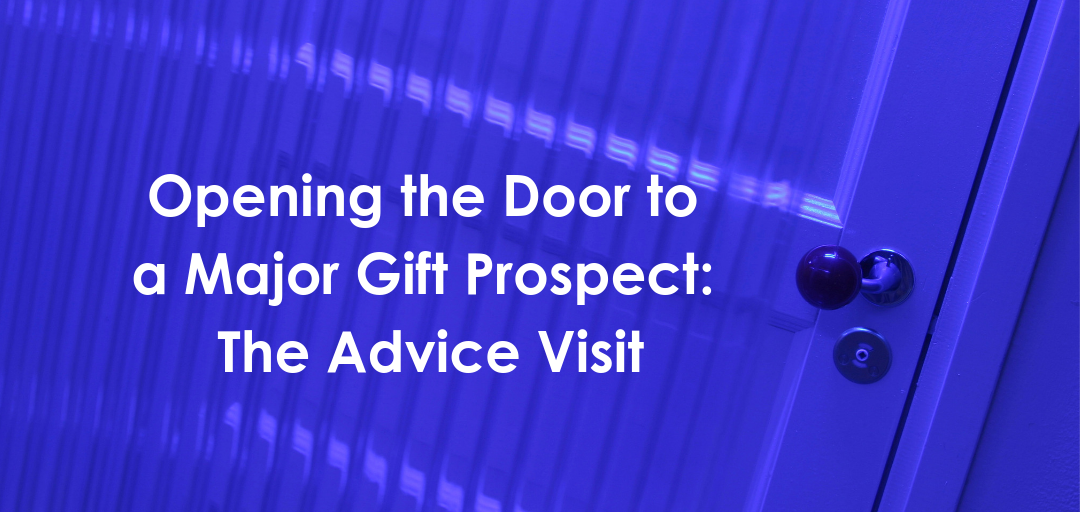 Is getting an appointment with a major gift prospect sometimes a challenge for you?
Could this be you: Here you are, sitting at your desk with your major prospect list in hand.
You've allocated time this morning to get on the phone and set up some appointments with some of your key supporters.
You want to visit with them in person.  And you want to use the visit as a prep to a larger ask.
Because you know that face-to-face visits are the most important cultivation tool available to you.
What happens when you try to set up face to face visits?
So you get on the phone, cheerfully calling and asking for a few precious minutes of your wonderful donor's time.
And this is what you are getting, over and over:
"I'm too busy to meet with you – call me later."
"I love your organization and I'm supporting you guys.   Since I'm already giving.  Spend your time on someone else.  And call me after I get back from my next trip."
It's so frustrating!! How can you cultivate this donor if you can't get in the door to see him?
It's particularly discouraging when donors you know personally won't give you an appointment.
Those are the ones who will cut you off quickly because they know you, and they probably see you often.  So it's even harder to get them alone to chat privately.
A great key to opening the door to a major gift prospect: Ask for advice.
You probably know one of my favorite saying: "If you want money, ask for advice. If you want advice, then ask for money."
I've written extensively about the power of advice visits:
How Advice Visits Can Open Any Door in Town
Three Rules for Successful Advice Visits
Questions to Ask in an Advice Visit
You can call the donor and say, "I have an idea up my sleeve and I want to bounce it off you."
Or say, "We're thinking about an interesting project and I want to pick your brain about it."
This is how you get over the challenge when you are opening the door to a major gift prospect.
If the donor knows she gets to do the talking, then she'll visit with you.
And this saying is all about listening, listening to the donor. It's about letting the DONOR do the talking. (I know it's hard but you've just gotta do it!)
Also, your donor won't see you if she thinks you are a boring person. : )
See my very popular – and funny – post – The Fundraiser's Kiss of Death."
Remember that fundraising is not all about you.
It's actually about engaging the donor, pulling the donor out, finding out what turns your donor on, and fanning that flame of whatever passion they have.
There's an extensive discovery process you need to go through before you ever bring up the topic of a gift.
This is not a ploy!
You really do want your donor's best thinking about your work.
And remember, you honor your donor by being more about the person they are, than their money.
Changing the world requires many skills, talents and perspectives — in addition to funding. There are so many ways your donor can help you, in addition to their gift.
Ask for advice about:
Who else might want to support this project of ours?
Who else do we need to be calling on?
How to we gain more visibility in our community?
How can we raise the funding we need?
Do you think our fundraising case is powerful? or not?
One of our colleagues shared some advice approaches that she likes:
"The one thing I have found that will often work is to ask the donor for advice.  You can try several angles:
"You can brainstorm their favorite area of the organization and frame a question to get some advice.
"Or you can ask their help about a particular prospect – can they strategize with you about how to get the appointment to see someone. (this particularly works if they say "spend time on someone else.")
"I received an unsolicited $10,000 challenge gift in an advice visit!"
Another client, Linda Frenette, Executive Director of the Community Music School in Raleigh, wrote me recently with this amazing story:
"I had an "advice visit" today with a very prominent woman in the community who on the spot offered a $10,000 challenge grant!!
"What's even more amazing is that she would not even schedule the meeting until she told me and my board member that her foundation had no money to give us!"
Wow, wow and wow again.
Mistakes fundraisers make: opening the door to a major gift prospect:
We were coaching a fundraising colleague in Raleigh recently on how to get in the door.
She was having a difficult time getting meetings with major prospects.
She told us she was calling them and saying, "I'd like to come by and tell you what my organization is doing."
Well, no wonder the donors were avoiding her!
A busy, important person does not want to sit quietly and receive a lengthy presentation from a junior person.  They simply won't do it.
We suggested to her that she try:
"Thank you visits." These are very powerful!
"I'd love to hear why you gave" visits. Or "I'd love to hear your story."
Or, bring the CEO of her organization with her to make the visit.
Or, get an introduction from someone else to pave the way for a visit.
Bottom Line:
Donors are tired of being "presented to." They want to engage, not listen to your verbiage. Try advice visits with everybody. They work!
How have you used this strategy?  How has it worked for you?
https://gailperrygroup.com/wp-content/uploads/2019/02/AdviceVistFeature.png
1080
1080
Gail Perry
https://gailperrygroup.com/wp-content/uploads/2020/10/GPG_Master_Logo_WarmGrey-300x187.png
Gail Perry
2019-02-22 08:30:54
2022-06-19 16:53:00
Opening the Door to a Major Gift Prospect: The Advice Visit