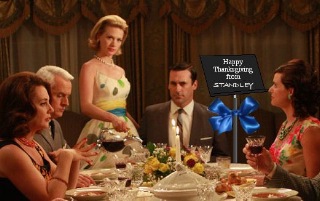 Here's a facebook campaign that was charming, silly and actually brought in some money.
And it uses fun and playfulness to capture the attention of supporters.
You know how hard it is to get people's attention!  Here's how you do it in our media environment today – with surprise and delight.
Can Facebook help raise money?
Nah!  (at least that's what I used to think!)
I used to be very dubious about Facebook as a fundraising tool.
Sure social media is great.
It helps generate buzz, visibility and friends – all important backdrops to successful fundraising.
And I personally love Facebook!
But it's just way too easy to turn off your supporters if you go after the dollars too hard on social media.
So when Warren Hyer of the Central Ohio Symphony shared with me his successful facebook campaign for – of all things – new music stands – I was amazed.
Raising money for new music stands would be a tough call!
Ok, Imagine a music stand.
It's a dull metal object. It's sorta ugly, isn't it?
Not very sexy or appealing to donors.
How on earth do you raise money for a music stand – please tell me!
So the Central Ohio Symphony organized a totally FUN Facebook campaign.
And they created a Facebook character named: "Standley."
Everybody fell in love with this silly character named "Standley."
They only needed to raise $600. And each music stand would cost the donor only $50.
(I would have advised them to make the price much higher!  But, hey, it was their very first effort like this on Facebook. They weren't really sure how it would go over.)
Now, Standley captured everybody's attention quickly – even well outside their community.
Amazing results from the Facebook campaign:
"The Standley project received an article in the local paper with a picture. (Social media generates coverage from traditional media!)

"Several stands were donated by individuals  from outside our service area, suggesting greater awareness of the Symphony and the fun of the campaign.

"Many people in our community have mentioned the enjoyment of the campaign, with smiles and acknowledgement of the creativity.

That is direct feeback that we are reaching them. It was also friendraising!

"We have had additional inquiries about more stands or donation opportunities.

I have been able to suggest alternative way to support us during those calls. (This is a huge success here!)

"We had a big surge in facebook participation that sustained for some time.

"Standley also appeared in the community Christmas Parade and on Thanksgiving he enjoyed dinner with friends.
"We don't know the effect on the Annual Drive since Standley did not participate.
Standley is going to have a terrific future!
Warren understands Standley's true potential. (the comments are mine.)
We are considering developing Standley as a mascot of some sort. (I would totally do that.)

Standley may be the first step to develop a tribute donation program since people gave stands in honor of others. (Yes yes!)

We may turn him into our facebook advocate and use Standley in the lobby during concerts for collecting comments or a donation bucket.  (Love this!)

We may follow up with a "Where's Standley?" campaign – Note the picture of Standley in nearby Waldo, Ohio!

We are considering developing a personality for Standley.
And Warren really nails the overall potential of a fun, playful icon:
Standley can be a presence where we cannot be. He can help spread information on the Symphony and what we do. He can be a community display that would be unique.
Now wouldn't it be wonderful if you could pull all this off for your own organization?
BOTTOM LINE:
Now here are my take-aways:
Be creative and be willing to take some risks with your brand – particularly in social media.
Have some fun and you'll raise more money – because you'll attract people to your cause!
Get people's attention first and then ask. Don't be about the money all the time.
Make a specific dollar request for a specific project – that appeals far more to today's donors.
Tie social media into your fundraising efforts. There's no reason not to!
Many donors are hanging out on social media to have some fun – and you can reach them there.
Here are some of the facebook posts from the Standley Campaign:
Warren was kind enough to share with us the full Standley Campaign Layout. Just click on the link to download a pdf file to see the entire campaign.
https://gailperrygroup.com/wp-content/uploads/2013/02/Image-3.jpg
201
320
Gail Perry
https://gailperrygroup.com/wp-content/uploads/2020/10/GPG_Master_Logo_WarmGrey-300x187.png
Gail Perry
2013-02-22 08:57:22
2013-02-22 10:23:23
How Facebook Can Help You Raise Real Dollars