Gear Up for a Thankathon Now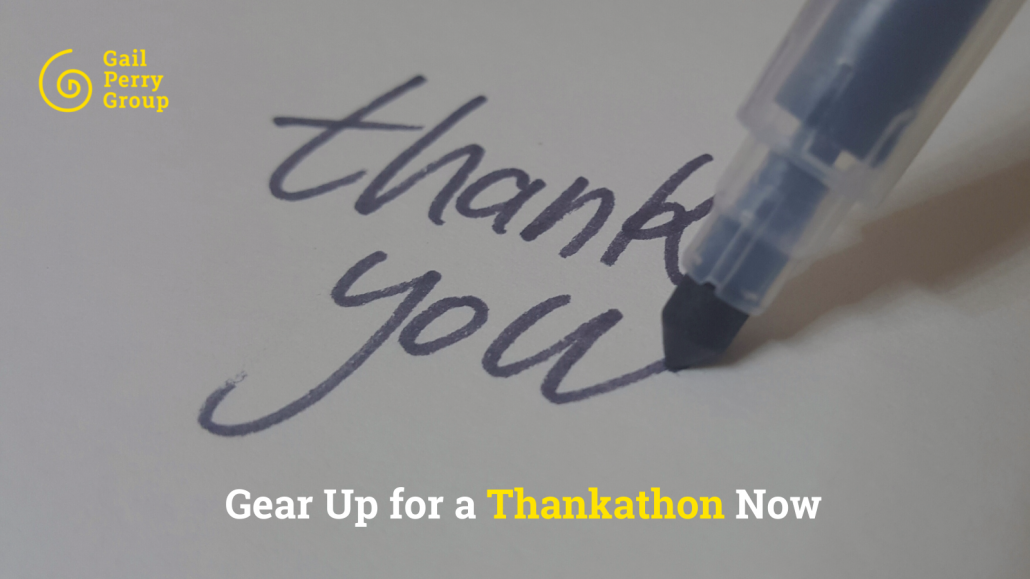 Do you have a Thankathon on your calendar in November? If not, you might want to start planning one today.
A Thankathon can be a vital part of a smart year-end fundraising strategy. It serves as a mini stewardship campaign that will prepare your loyal donors to make a generous year-end gift.
With a Thankathon, we are simply acknowledging our donors and their generosity. There is no traditional "ask." Instead, you're making sure donors have a warm and fuzzy feeling in their hearts about your organization around the time that they receive your year-end appeal.
With the Thanksgiving holiday, November is already a season of gratitude. It's the perfect time to connect with donors and express your appreciation for their support. 
Why do a Thankathon?
Yes, thanking donors is good manners, and it's also smart fundraising. The reason we like to do Thankathons in the fall is to lay the groundwork for donors to renew, and hopefully increase their gifts. 
The goals of your Thankathon would be to:
Remind them that their support is critical
Pull them closer to your mission by making them feel their impact
Let them know you notice them 
But a Thankathon is more than just a calculated strategy. It's also an opportunity to bond with your donors in an authentic way—a chance to let them know you care about them as people, not just for their checkbooks.
Who's the audience for a Thankathon?
Ideally, everyone! At some point, you absolutely should thank everyone who's made a gift to your organization.
If thanking all your donors in November is unrealistic, that's ok. You can segment them to keep your Thankathon manageable.
Think about narrowing it down to a measurable audience. For example first-time donors, those at a certain gift threshold (e.g., $1,000+), or people who have given consistently over time (e.g., 5+ years).
Here's the thing: You've got major donor prospects – right now – buried in your files among the small gifts. The problem is that they just haven't identified themselves as major donors yet.
You just may wake them up with a Thankathon.
What format should a Thankathon use?
You can choose to thank people via phone, email, or snail mail.
If you choose the phone, don't worry that many people won't answer your call. That's fine. They will listen to your heartfelt message and feel good that you reached out to say thanks!
If you opt for email, don't default to a blanket approach. Try to keep the messages personal and address the donor by name.
And if you go with a mailed card or letter, make them handwritten, if at all possible.
Who should participate in a Thankathon?
Thankathons are a good time to get your board members and other key volunteers involved.
But don't "require" everyone to participate. You want people who will actually enjoy the activity, especially if you're doing phone calls.
Pre-pandemic, it was common to bring Thankathon folks together to make calls or write notes. You can still do that, or you can try a group Thankathon via Zoom. 
Pull together your volunteers on Zoom, kick it off with an inspirational message, and then have everyone mute their computers. You can pipe in occasionally to encourage your volunteers to keep going!
It's fun to see everyone's smiling, committed faces while they're doing the important work of showering donors with gratitude.
What to say during a Thankathon?
Whatever vehicle you decide to use when saying thank you, be sure not to break one of our donor communication cardinal rules.
Don't thank donors for helping your organization be successful. Thank them for the impact THEY are making in the world. 
If you're doing phone calls, here's a sample script. (Notice it's short and sweet.)
"Hello, Ms. Smith? My name is ___________, and I'm on the board of _________. I'm calling to personally thank you for your support this year. Your gift helped underwrite the expansion our ___________ programs. Thanks to you, _____ more families/children received life-changing services. We are so grateful for your generosity."
Consider the script a conversation starter. If the donor is willing, your caller can go further, and ask donors to share their stories. Find out why they gave to your organization and what draws them to you. It can be a powerful conversation. 
Bottom line
A Thankathon will prepare your donors to give generously at the end of the year. Organize one today!
As always, it is a pleasure to share our weekly insights with you as we cover important fundraising strategies.
If your organization is planning a capital campaign or expanding your major gifts program – we can help. Send an email to coaching@gailperry.com if you'd like to schedule a free strategy call with us.
https://gailperrygroup.com/wp-content/uploads/2021/10/Gear-Up-for-a-Thankathon-Now-3.png
900
1600
Gail Perry
https://gailperrygroup.com/wp-content/uploads/2022/09/Gail-Perry-Group-2.svg
Gail Perry
2021-10-28 17:26:34
2021-11-10 21:58:20
Gear Up for a Thankathon Now