What to Do On Your First "Date" With a Donor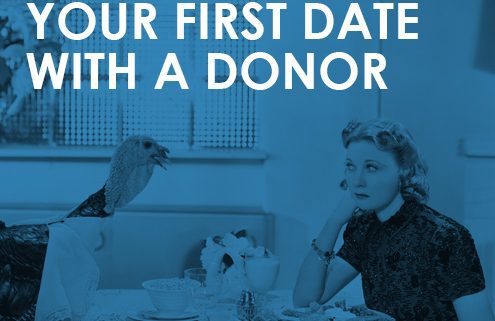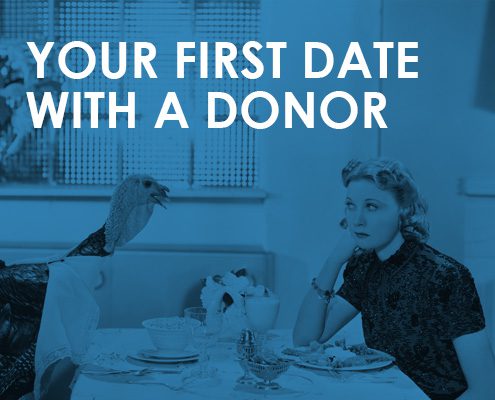 Oh my, it's a "first date" with an important donor!
Finally, after all these months of work,  she has agreed to a meeting.
Remember high school, when your first crush finally said yes to a date?
Well – getting to know a donor is a bit like being in high school. And YOUR "first date" with a donor is wildly important.
If you hope to have a longer term relationship with your donor, you must ace the first date.
Let's walk through the parallels here, and have some fun comparing your first date with a donor, with that exciting first date in high school.
Send this post to your boss. Or board.
Send this to everybody who thinks you should be out there asking on every single visit.
You don't ask your date to marry you before she gets to know you.
Likewise, you don't ask a donor for a significant gift on the first meeting without adequate warm up – which takes time.
Otherwise it will be a serious affront and you'll lose your donor's trust. And she certainly won't like you very much.
You'll lose out on the hope for a gift any time soon, because you have lost serious ground by being too pushy right off the bat.
My mentor at Duke University , where I started out in fundraising, would tell me:
There's a direct correlation between the number of times you are with a donor BEFORE asking – and the size of the gift. 
So take your time. Nurture, nuture the relationship before you ask.
Because, the more time you take, then the bigger the ultimate gift. 
What are your objectives on that first date with a donor?
A first appointment with a donor is a get to know you visit.
You are sleuthing. You're doing what we call "discovery."
And it's really kind of fun, because you are playing Sherlock Holmes and finding out as much as possible about your donor.
Your objectives on your first date with a donor are pretty simple. You want to:
Establish a friendly relationship with her
Evaluate her level of interest, excitement and commitment to your cause
Decide if you should invest more time with this particular donor
Come away with a next step with her.
Get advance scoop before your first date with a donor.
What do you want to find out before a first date in high school? You ask around:
What's he like?
What kind of TV shows does he watch?
Which sports does he like?
Is he on the debate team or the church group?
Likewise, you also want to do some research before your important first date with a donor. Googling her may not give you what you really want to know. Neither will your wealth screening service.
She has likes and dislikes – what are they?
She volunteers in certain places.Where?
She is part of certain social groups. Which ones?
What interests does she have? Where does she vacation? Who are her friends?
Ask around:
Bet some board members know her or know of her.
Perhaps some of your donors know her. Maybe they can give you the low down on what she's like. What to expect. What to talk about.
Smart fundraisers do deep advance research. It's nice to have conversation topics ready to go.
What to wear on your first date with a donor:
Do you wear the sexy black fishnet stockings? Do you go heavy with the eyeshadow? What about that low-cut blouse?
Whoops. On second thought, you think twice about what your appearance says about you as a person. How do you want to come across?
What if your donor is a conservative older lady, like your grandmother? What if he is a big time businessman?
When in doubt, dress conservatively and attractively. Be exquisitely well-groomed. (hair? scraggly beard? pressed clothes?)
Be tasteful and low key. Don't have your clothes or appearance call attention to themselves. Pleeeeze.
How pushy should you "be" on a first date with a donor?
Are you going to be all about the money in the first meeting?
Do you come right out and ask her for a gift that is far, far larger than anything she's ever given? Out of the blue? Before she's even indicated her interest?
Well – in high school – would you be aggressive on your first date?  Pushy or controlling? Dominant and showing off?
Nah, these are middle-school behaviors, and you are a grown up in high school now.
So you are patient with your donor. You've invested time understanding what she's like.  You know her interests. You know what conversation topics to bring up.
Bottom Line: On your first visit, you want to get your donor to like you.
Just get her to do most of the talking.
Don't let yourself get pressured to go "for the money" as quickly as possible.
Let me tell you right now: this is a recipe for complete and utter failure.
Instead, warm up your donor, help her get to know and trust you. Then discussing her interest in a gift will come naturally.
https://gailperrygroup.com/wp-content/uploads/2018/02/2-9-18-blog-image.jpg
400
495
Gail Perry
https://gailperrygroup.com/wp-content/uploads/2020/10/GPG_Master_Logo_WarmGrey-300x187.png
Gail Perry
2018-02-09 09:14:07
2018-02-09 09:40:54
What to Do On Your First "Date" With a Donor