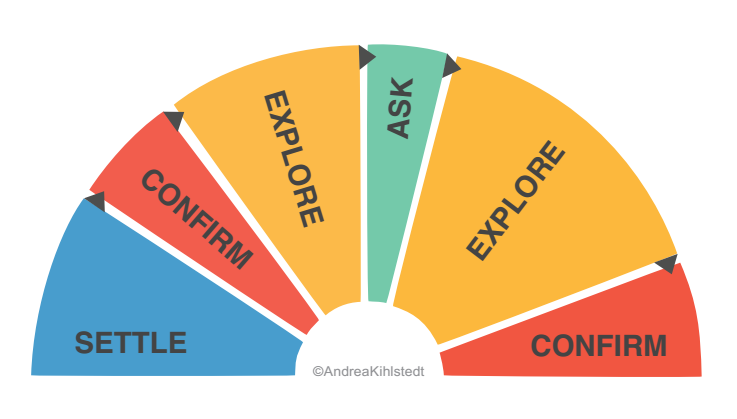 Ok, you are ready to ask for the gift. What do you do?
Here is an amazing approach from the very smart Andrea Kihlstedt, one of the masters of our business.
Andrea has outlined this very simple, six step process to secure a wonderfully generous gift from your donor.
This simple process makes the asking conversation so very organic and seamless. Andrea says,
"The secret is to engage your donor deeply and then take your lead directly from your donor."
This process makes it EASIER!  Yay!
Andrea also says to use this technique to get what you want – any time, any place. Or even to get your partner to take you out for dinner.
Here's a pdf of the Asking Conversation Image to the right. It's copyrighted by Andrea, so please attribute to her. 
Six Steps to a Seamless, Successful Ask
Follow each of these six steps and you're much more likely to get a YES from your donor!
Step 1. Settle. Take time to focus your attention.
"Hi, what awful weather outside! How're you today?
You want to get on the same wavelength with your donor.
Get in sync with her.
Use chit-chat to settle down, and find out how she is.
Step 2. Confirm: Set the stage for a conversation about your organization.
Open up the conversation and ask for their permission to discuss their interest in your organization.
Confirm the purpose of the meeting and how much time you have.
Confirm that the subject is your organization and there's the possibility of a gift.
"I'm here to talk to you about the local hospice and our annual fund and we have 20 minutes?"
You are not YET asking – instead you are asking for permission to discuss it.
If you want to hear Andrea present this personally – live in a webinar – join us on March 18 when she presents these revolutionary strategies for nailing the gift! 
Step 3. Explore: Find out what's on your donor's mind.
"Tell me a little about you. I see you've been a long time donor for 20 years. What drew you to our organization?"
Or: "We'd like to better understand you and your philanthropic priorities."
Or: "What's important about our hospice to you? May I ask you some questions?"
Andrea says,
"Turn your focus directly to your donor. Introduce questions about them, and their relationship to your organization."
Once again, you're not yet saying what YOU want.
Instead, you're finding out what SHE might want.
Here's the important point!
Getting what you want from someone usually depends on your ability to shape your request in terms of what THEY want.
Step 4. Ask: Shape your request in the context of your donor's specific interest.
Now it's time to ask.
"You've told me you are interested in this – and maybe this is what you'd like to do?"
It may turn out that your donor has a particular interest in pain management.
You'd say: "It sounds like you may be interested in supporting our pain management program.  Here's a program that might interest you."
Andrea says:
"You are NOT going in with what you wanted to ask for. You are NOT making a presentation.

"You move from a discussion of THEIR interests in your organization . . . to an ask.  Instead of a presentation, you temper the ask around your donor's interests.
And BINGO… you've greatly increased the chances that she'll say yes.
Step 5. Explore. Figure out how to proceed.
In this step, you get down to specifics. You figure out what needs to be done to confirm the donor's interest in a gift.
"Well would you like to make this gift now or later? Would you like to meet the person who heads up our pain management program? Do you need to visit with your financial advisor?"
Andrea says,
"You are having an exploration of exactly what your donor's intention means."
Step 6. Confirm: Confirm the plan and clarify the next steps.
In this final this step, you tie it all down and specify what comes next.
"Ok, then we've decided that I'll bring the head of the program over to meet you next week. And in the meantime, you'll be checking with your financial advisors."
BOTTOM LINE:
This simple 6-step model works remarkably well as long as you frame what you want in the context of the other person's desires.
I love, love this approach!
And I have some solicitations coming up for my favorite organization soon.  I'm going to apply Andrea's 6-Step Intentional Asking Conversation. And I bet I am successful!
Check out how Andrea uses this approach to get her husband to take her out for dinner! And if you think this is "manipulative," then read her response. :)
Now, it's time for you to perfect your OWN asking skills, so you can raise big money for your nonprofit!
Join us on March 18 with four of the world's top experts – including a rare presentation by Roger Craver of The Agitator – showing us how to ask smoothly, comfortably so that we NAIL THE GIFT every time!
Find out more about how to nail YOUR asks everytime you make one!
https://gailperrygroup.com/wp-content/uploads/2014/03/Asking-conversation-from-andrea.png
419
737
Gail Perry
https://gailperrygroup.com/wp-content/uploads/2020/10/GPG_Master_Logo_WarmGrey-300x187.png
Gail Perry
2014-03-07 10:24:40
2014-03-07 10:53:48
Asking as an Intentional Conversation: Six Simple Steps to Nailing the Gift!