Are You Ready to Master Major Gift Fundraising?

If you can master major gift fundraising, then you can get off the dreary, exhausting fundraising treadmill.
Too many nonprofits are caught in a vicious cycle of committee meetings, mailings, fundraising events, grant deadlines, newsletters to get out, reports to write, – and is it all worth it?
The solution: master Major Gift fundraising, of course!
I'm proud to share this guest post from my friend and colleague, the very smart Amy Eisenstein, ACFRE.
Amy's showing us the path to smarter, much more successful fundraising – and it's via Major Gifts.
Take heed of what Amy advises:
Fundraising can be a vicious cycle…
Many people think that it's easier and quicker to raise funds from grant writing and fundraising events.
This is why development directors find themselves trapped within a stream of never ending deadlines and impending events.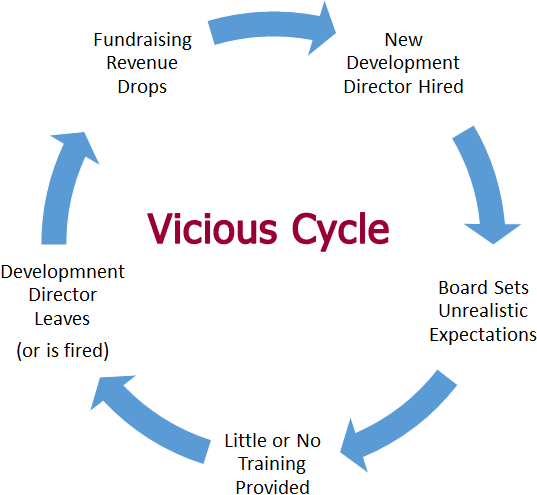 …with disastrous consequences.
Too many fundraisers are changing jobs too often in our industry – and it's because of this vicious treadmill.
The problem is — when a development director leaves, it often takes many months to replace them.
This leaves remaining staff scrambling to complete necessary fundraising tasks, and many responsibilities fall through the cracks.
Alas, it also costs money to find, hire, and train a new staff member. Fundraising results start falling behind.
Bad for organizations, bad for donors, bad for professionals.
Job hopping is also bad for development professionals. Searching for a job and starting a new one is never easy.
Again — bad for organizations, bad for donors, bad for development professionals.
Do you want to stop this vicious cycle? Then commit to helping development professionals successfully raise major gifts – at any and every organization. And join the #MajorGiftMovement.
It's Time to Fix a Broken System
The #MajorGiftMovement is about moving nonprofits from heavy dependence on grant writing and event planning and into the world of individual giving and major gifts — a world with more benefits for all involved.
The problem with grant writing and event planning is that they are labor intensive and expensive!
The cost to raise $1 is approximately five times greater for fundraising events than it is for raising major gifts.
Investing dollars in major gifts is a good choice with a large ROI. #MajorGiftMovement CLICK TO TWEET
Major Gifts is one of the least expensive forms of fundraising, in terms of cost to raise a dollar, and yet, most nonprofits remain heavily invested in fundraising events and grant writing.
An unsettling fact about most nonprofits today…
What truly concerns me (and should concern you too) is that most nonprofits have staff members who are paid to focus their time and attention on grant writing and event planning.
But only a tiny fraction of nonprofit organizations have staff members who are paid to focus on raising major gifts.
How's that for backwards?
Be a Trendsetter — Ride the Wave
Every movement or trend has trendsetters, who are the innovators and early adopters. I'm inviting you to be part of the initial group that sets the trend.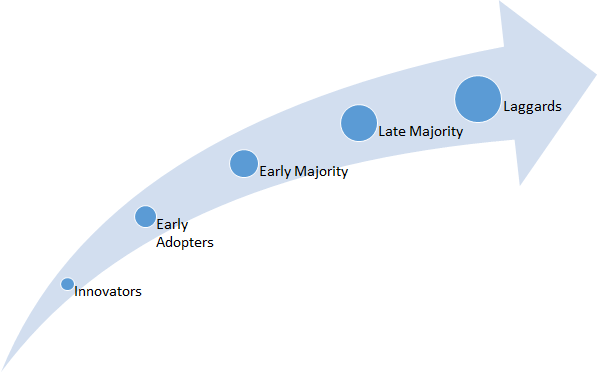 By supporting the #MajorGiftMovement NOW, while it's in its infancy, you'll be an early adopter. And early adopters of any new movement are the ones who reap the most benefits.
And it pays to be an early adopter.
If you can master major gift fundraising, you'll be among the first hired, highest paid, and most in-demand fundraisers.
You'll help create a world where every organization has a major gift officer and all organizations are able to raise major gifts and accomplish their missions in bigger and more robust ways.
The time is NOW for nonprofit leaders to realize that major gift officers and development directors are most successful when board and staff members are using accurate metrics and have realistic goals.
Ok, I'm in!  What should I do to master Major Gift Fundraising?
If you're ready to become part of the #MajorGiftMovement and help fix the broken fundraising system, here's what you need to do:
Start the conversation at your organization about prioritizing raising major gifts.
Set aside time and resources dedicated to raising major gifts this year.
Develop accurate metrics to measure your major gifts program and set clear expectations and goals (look for this in an upcoming post).
Make a plan to hire your first major gifts officer in the next 12 to 24 months.
Provide adequate major gift training to all development staff and board members, thereby increasing the average tenure of development professionals to more than two years.
Help increase awareness about the #MajorGiftMovement with a tweet, Facebook mention or a social share.
What happens when you master major gift fundraising?
So what would the world look like if the #MajorGiftMovement is a success?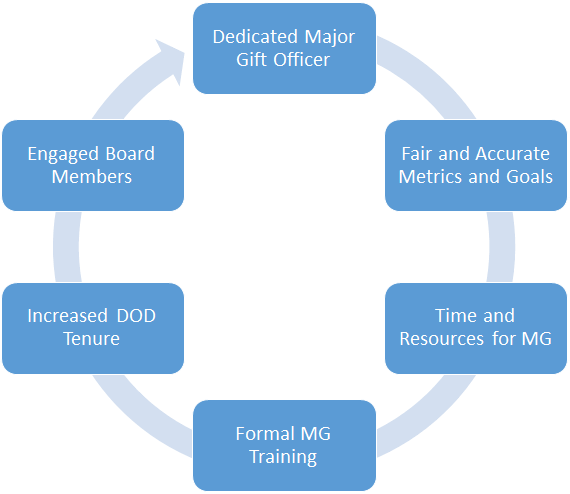 Smart, successful nonprofits will have dedicated major gift officers.
Every organization will have a dedicated major gift officer who is judged by fair and accurate goals and metrics.
Development professionals will be much more valuable.
Organizations will provide time and resources for raising major gifts, including formal major gift training. As a result, average tenure increases to five years or more and board members are increasingly involved and engaged.
Finally, the vicious cycle will be over.
Development professionals remain at their nonprofits for several years, being able to foster deeper and longer-lasting relationships with top donors. It's win-win, all the way around.
Join the #MajorGiftMovement and EVERYONE wins — organizations, donors, and you.
I'm joining the #MajorGiftMovement to modernize our nonprofit and improve fundraising for all! CLICK TO TWEET
BOTTOM LINE: Keep up with the #MajorGiftMovement!
The #MajorGiftMovement is just getting started. And no doubt, it IS the future!
The best way to keep up with how it's evolving and changing the face of fundraising is to join Amy's list. You'll also get her two terrific free eBooks to help your nonprofit succeed.
https://gailperrygroup.com/wp-content/uploads/2016/06/Screen-Shot-2016-06-09-at-6.26.55-PM.png
1000
1330
Gail Perry
https://gailperrygroup.com/wp-content/uploads/2022/09/Gail-Perry-Group-2.svg
Gail Perry
2016-06-10 08:35:10
2016-09-19 14:02:24
Are You Ready to Master Major Gift Fundraising?