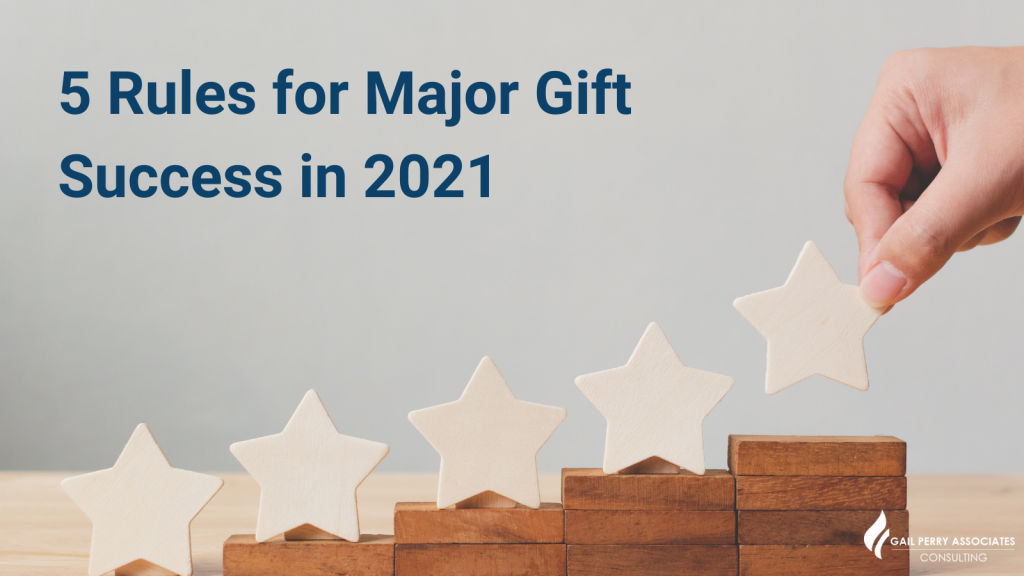 Major gift fundraising has changed dramatically in the past year. And the major gift landscape may never be the same.
Many of our "best practice" major gift strategies now seem out-of-date. An era where donors don't want to meet in person or gather face-to-face has forced us to pivot our strategies.
And the key to your major gift success will be knowing what works, right now.
On the bright side – major donors are giving like never before. They're feeling wealthy (look at their stock holdings), and are also concerned about the many, many needs of our world. 
Best of all, data shows that giving is up across the board – among both small and large donors. The time is right to focus on major donors!
We are sharing our best major gift ideas in a free webinar next week:
Thursday, January 21 at 3pm ET

Find out more and register here
We will give you a guide for unlocking your major gift potential, and show you how to literally cut cultivation time in half, and close major gifts much faster. No kidding!
Here's a sneak peek at our Top 5 Rules for Major Gift Success that we'll be discussing more deeply in our webinar next week:
1. How to Use Data Analytics to Save Time
State-of-the-art data analytics can really be your best friend. 
Information is powerful. And knowing where to find it (some is closer than you think) – and how to interpret it – is key to your success. 
Everyone wants to know how to find the best prospects.  Knowing how to collect and use your own data can help you do this. It will take the guesswork out of these questions: 
Who is your best prospect?  

Who is most interested? 

And, who is most likely to respond to your call? 
Above all, we love data because it provides a structured, disciplined approach to the major gift fundraising process. Finally, you know where to spend your most valuable resource – your time. 
 (We'll dive into data analytics in depth, in our webinar next week. Join us here.)
2. How to Keep Your Prospect Pipeline Lean and Mean
Does every name of a possible donor get added to your portfolio without any filter at all? But somehow you're still not seeing an increase in major gifts closed?
Inflating your major donor portfolio only results in having more of the wrong prospects, or worse  – not really prospects at all.  
Don't spend your time making discovery calls on people who are really just "suspects." Instead, spend time on the most important prospects of all – the "hot" prospects. Not the cold ones. 
Keeping your prospect pipeline lean and mean is the best way to focus on your prime donors. You know these lovely people – they have both the wealth capacity, the interest AND they want to engage with you. 
(We'll chat more about the benefits of a systematic and measurable discovery process in our webinar next week. Join us!)
3. How to Put Your Top Prospects on the Front Burner
When we work with clients, we encourage them to think in terms of the "front burner" and the "back burner." 
"Who belongs on the back burner?" you may ask. 
It's those prospects that just need a touch here and there. You don't want to let them go, but their timing for a gift is later – not now. 
You need a tool to systematically identify your hot from your cool prospects – and we promise you there is a smart, analytical prospect management system for you.
This system will help you predict future fundraising streams, help you identify which donors need attention and when, and help you manage your overall prospect assignments for maximum giving and productivity. 
(If you're interested in prospect management systems, you won't want to miss our webinar next week!)
4. How to Know When, and How, to Ask Donors the Right Questions
The most successful major gift fundraisers know the art of the skillfully placed question.  
The question designed to open the donor's mind to the possibility of a gift.  This kind of questioning is a beauty to behold. And it's a skill you can learn.
Artfully using the right questions at the right time will take the guesswork out of asking. In fact, you may not have to ask at all – the donor will open the door to the gift conversation.  
If you are a beginning major gift fundraiser or have years of experience, building and honing your conversation skills can move you to the head of the class quickly.  You will be closing major gifts, sooner than later!
We teach our clients a series of questions that LITERALLY cut cultivation time in half, AND accelerate gift commitments. We'll be sharing more about these strategies in our Thursday webinar – be sure to sign up.
 5. How to Build Great Major Gift Officers 
Yes, it is entirely possible to develop smart major gift fundraisers who know how to handle themselves with donors, how to manage conversations, and how to gently, politely lead a donor into a gift conversation.
 These fundraisers are the ones who close many major and principal gifts for their institutions. In addition, they create happy donors who are simply thrilled at the difference they are making.
 Great, well-trained major gift officers can deliver even greater results because they are confident and self-assured.  
BOTTOM LINE: 5 Rules for Major Gift Success in 2021
Again, the key to success is knowing what works right now. Focusing here will help you be more successful than ever – happily bringing many major gifts into your organization! 
As always, it is a pleasure to share our weekly news and insights with you and we hope you will join us next Thursday at our free webinar.
If you want to build and expand your major and principal gifts programs in 2021, keep an eye on your inbox. Applications will open soon for our 2021 Major Gifts Intensive.
Wishing you a prosperous and positive 2021!
https://gailperrygroup.com/wp-content/uploads/2021/01/1_15-blog-asset.png
900
1600
Anne Guillen
https://gailperrygroup.com/wp-content/uploads/2020/10/GPG_Master_Logo_WarmGrey-300x187.png
Anne Guillen
2021-01-15 00:35:03
2021-01-15 00:35:03
5 Rules for Major Gift Success in 2021