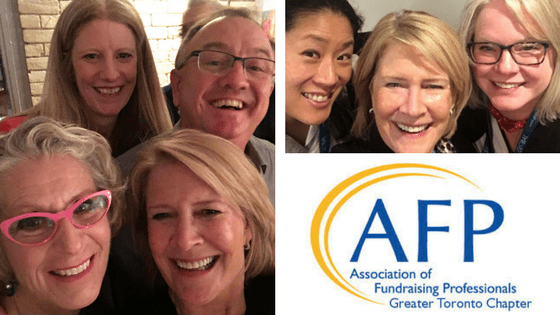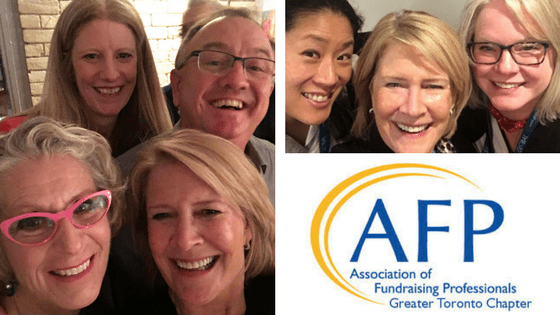 This week, AFP Congress in Toronto presented some terrific international speakers – many of whom are on the cutting edge of fundraising today.
There's so much change happening in fundraising all around the world.
We are learning how to do the long-time traditional tactics better, and we're continually developing new and better ways to communicate and ask.
Here's a list of ideas that I hope will provoke you to refresh, tweak, revise, and reformulate your own fundraising.
I'm also sharing new ways to think about old school tactics – always useful when you are seeking change, rallying your board, and searching for planned and major gifts!
You may think you've heard some of these ideas before, but think again – and apply them to your board, your own leadership skill development, and your messaging.
1. Forget about using words.
Use images to explain your mission, your work, your results and outcomes.
Wow, this idea was killer – and challenging. I am a word person, how about you?
Takeaway: See if you can tell your story in images only!
2. Focus more on the few people who love you.
They will convert better.
And they will give you a higher gift, said Shanelle Newton Clapham, MA, founder of Parachute Digital in Australia.
Takeaway: This is the new funding motto – it goes for major gifts, mid-level gifts and now, digital donors. 
3. Acknowledge the vast power of social networks to influence people and causes.
Colin Habberton, of the Relativ Group in Cape Town, reminded us to be aware of the vast power of social networks.
"Facebook is not going away," he said. " It will only get stronger."
Takeaway: Deepen your social media skills and explore how you can use social media to amplify your message.  
4. When everybody in the organization embraces philanthropy, you'll raise much more money.
We do know this intuitively, with all the conversation about culture of philanthropy. But Leah Eustace ACFRE and Scott Fortnum ACFRE reminded us plainly that:
Study after study shows that a strong culture of philanthropy = more revenue for your mission.
Enough said!
Takeaway: When everyone at your organization embraces fundraising as a priority – that's when you can move mountains and create change quickly.
5. Your planned giving prospects just might love talking to you on the telephone.
Mark Douglas Trask of Artsmarketing Services, reminded us that mid-level and monthly donors are excellent planned giving prospects.
They love the telephone. And they love talking.
The phone engages them in a one on one conversation, and you can find out why they give.
AND – your donors will feel like they've been heard. That's huge.
Takeaway: Try out the phone as a planned giving prospecting tool.
6. The aim of a brochure is to create something that people might keep and cherish.
Derek Humphries, of the DTV Group in The Netherlands challenged us.
I love this concept. How many brochures have you seen that just need to be thrown away? :)
Takeaway: If you are creating print materials, then make them memorable.
Do your materials stand up to this test? :)
7. Your event sponsors want exclusivity and differentiation.
Bernie Colterman, of the Centre of Excellence for Public Sector Marketing said to trash the traditional levels of sponsorship.
Instead offer specific and separate benefits to each sponsor.
It's time to turn your current efforts upside down!
Takeaway: You can raise a ton more sponsorship dollars by offering exclusivity for each benefit. 
8. Soft skills is really what leadership is all about.
Tony Meyers and Kay Sprinkel Grace led two amazing sessions on Finding your Inner Leader.
Need I say more?
Takeaway: If you want to change the world, raise your own emotional intelligence. 
9. Ask the tough questions if you want to build a successful organization.
Maeve Strathy, of Blakely, encouraged us to push for honesty in our organizations.
Ask the strategic questions:
How do we build a successful org?
How do we get to be successful?
Do we agree about what success looks like?
Takeaway: If you are going to be a change agent, then it's probably time to speak up!
10. Your "Fund a Need" appeal is a gift from the heart. The auction is a sale of tangible goods.
Layne, The Auctionista, BAS reminded us to play up the "Fund a Need."
Do it with "theatrics."
Keep a client up there on the platform with the auctioneer.
Make it emotional.
Takeaway: The most important thing at your gala is the Fund a Need. Make it powerful. 
BONUS TIPS:
11. Your case for support needs to read like an investment prospectus.
Bill Bartolini, ACFRE, Senior Philanthropic Advisor Wexner Medical Center at Ohio State is always a fun speaker to hear.
Bill said when writing to donors, see if you can encapsulate what you do in one sentence. (Love that!)
Takeaway: Is it time to go back to the drawing board with your case? Maybe so.
12. Surveys are unbelievably powerful in planned giving because donors want to talk about themselves.
David Love, CFRE of Agents of Good, reminded us to ask donors "what do you think about the work we do?"
You'll probably get back pages of handwritten information from your donor about her connection and love for your work. Every donor has a story.
BOTTOM LINE:
Hope these new ideas and twists on old ideas will help you rev up your mission, your case, your communications, and your donors!
https://gailperrygroup.com/wp-content/uploads/2017/11/AFPBLOGFINAL.png
315
560
Gail Perry
https://gailperrygroup.com/wp-content/uploads/2020/10/GPG_Master_Logo_WarmGrey-300x187.png
Gail Perry
2017-11-24 10:41:33
2017-11-26 22:19:15
10 Insights from the Toronto AFP Congress 2017